Sylviana Hamdani (The Jakarta Post)
Jakarta   ●

Fri, July 1, 2022

2022-07-01

14:00

30

e16ff64e7ecc29b4174149122335e617

1

Food

Dapur-Cokelat,entrepreneurship,entrepreneurs,Ermey-Trisniarty,Okky-Dewanto

Free
Ermey Trisniarty and Okky Dewanto, Dapur Cokelat's cofounders, share the ups and downs of 21 years in the pastry business.
Pastry shops are heaven for those with a sweet tooth. They usually have cozy interiors with rows of glitzy glass shelves displaying dainty confectionery in various vibrant colors. A fragrant aroma wafts in the air, piquing customers' appetites for sugary snacks.
Ermey Trisniarty and husband Okky Dewanto, the cofounders of Dapur Cokelat, made clear that behind the powdered sugar exterior, the pastry business could be story of a struggle.
"We've been through a lot of ups and downs," Ermey said during an interview after Dapur Cokelat held a press conference to commemorate its 21 st anniversary at the JW Marriott Hotel in Jakarta on June 2. " Alhamdulillah [thank God] , they've made us stronger and more trusted by our customers."
Ermey and Okky celebrated the night with 250 loyal customers and suppliers, who had witnessed the husband and wife's long journey in the culinary industry.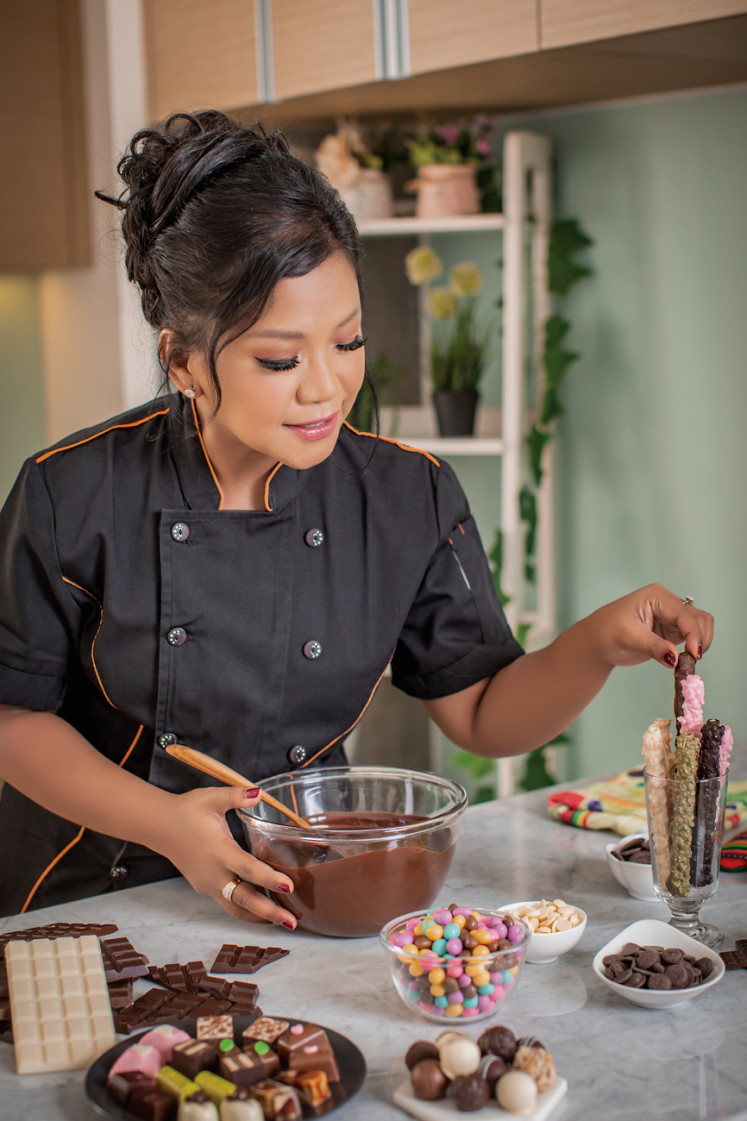 Baking time: Ermey Trisniarty makes a cake. (Courtesy of Dapur Cokelat) (Courtesy of Dapur Cokelat/Courtesy of Dapur Cokelat)
Chocoholic
"I've always been a chocoholic," Ermey said. "When I was a little girl, I used to keep chocolate umbrellas, crispy chocolate wafers and the famous Cokelat Ayam [chicken-brand chocolate chips] under my pillow."
Growing up, Ermey learned to make chocolate and cakes from her mother, who was the cook of the family.
"Scattered flour, sugar and eggs were a daily scene in our kitchen at home," she said.
Realizing her passion, Ermey studied at the National Hotel Institute in Bandung, majoring in pastry cooking and management.
"I had always wanted to set up my own pastry shop," she said.
Afterwards, Ermey worked as a pastry chef in a sports club in Jakarta for a few years before deciding to continue her studies at the Bogor Agricultural Institute (IPB).
One day, a friend tipped her off to a newly opened cake shop, not far from her campus in Bogor, which was getting quite famous for its delicious pies.
Ermey paid a visit and met the shop's owner, Okky Dewanto.
As they had both come from the same alma mater, the National Hotel Institute, they quickly became close.
"Knowing my dream, Mas Okky always encouraged me to open my own pastry shop," she said. "But opening a shop is not only about making cakes. There are so many aspects to manage and consider."
While studying, Ermey also worked as a journalist at a culinary magazine, Selera .
Okky was picking her up from the office one day when Ermey surprised him with a tiramisu that she had made in the magazine's test kitchen.
He was immediately captivated.
"He said that my tiramisu was delicious and that I should definitely start my own shop," Ermey said, with a smile. "He would help."
That Italian taste
"It's hard to describe," Okky said of the pivotal tiramisu when interviewed separately on the same day. "But it had a distinctive Italian taste that lingered in my mouth."
The two partnered and opened their first store in Kebayoran Baru, South Jakarta, in May 2001.
As the couple had agreed, Ermey made the cakes and served customers while Okky dealt with finances and suppliers.
But things didn't go as smoothly as they had envisioned.
"We found it hard to even breathe for the first four to five years," Okky said.
During the first few weeks, only a handful of people dropped by their new shop and bought their cakes.
Okky then made brochures and distributed them to several public places in Jakarta, trying to invite as many customers as possible to come and taste their cakes for free.
The strategy worked. A number of customers came to taste their products and then returned with their friends and families. Several television channels, magazines and newspapers followed their visit to cover the cakes.
By word of mouth, their clientele grew. In the following year, Dapur Cokelat opened another shop in Menteng, Central Jakarta.
But their competitors began to envy their success. Some of them copied their cakes and marketed them as their own. Some others poached employees in the hopes of stealing their secrets.
"In the culinary business, we can't be cengeng [soft]," Okky said. "We have to be confident in our products and our ability to create them."
"In the end, the customers will always know what's best for them," he added.
Among the customers' favorites are, according to Ermey, her pralines, tiramisu and Two-Season Cake – the last of which, a combination of dark and white mousse, is a favorite of several top politicians in the country, including former presidents Megawati and Susilo Bambang Yudhoyono.
"They always order this cake for special occasions," Okky said.
Ermey and Okky got married in 2003. And their collaboration became more intense as they had to work together 24/7.
"It's not always easy to work with your spouse," Okky said. "But we trust each other completely. And we don't fight for the limelight between us."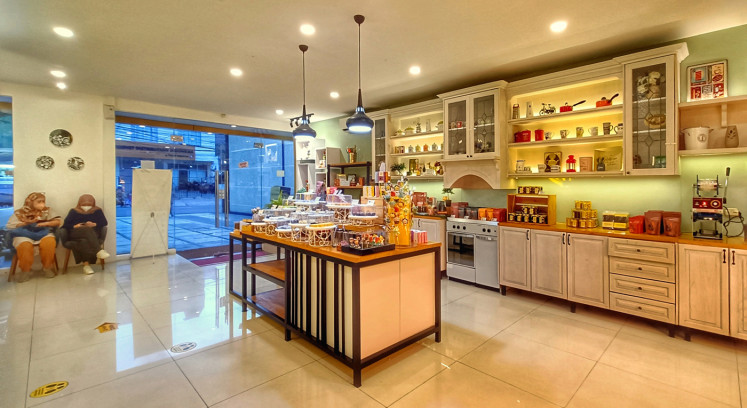 An inside look: The interior of a Dapur Cokelat outlet in Tebet, South Jakarta. (JP/Sylviana Hamdani) (JP/Sylviana Hamdani)
Storms of life
As Dapur Cokelat expanded, Ermey discovered a painful lump in her right breast. The doctor diagnosed her with stage-2B breast cancer.
"The diagnosis came as a shock to our lives," Okky said.
After getting a second opinion in Singapore, the mother of two decided to have the lump removed. The surgery was followed by four sessions of chemotherapy and 36 sessions of radiotherapy, which caused her to lose all her hair.
"It was a difficult and painful process, but luckily she's a very strong and disciplined person," the husband said. "She followed all the doctor's instructions and willed herself to survive."
The 47-year-old has been cancer-free for more than a decade now.
Another big blow in the couple's life was the COVID-19 pandemic in 2020. As everyone was required to stay at home and public events were canceled, their sales plummeted and they had to lay off some of their employees.
Ermey then had the idea to create a pre-mixed formula in small packets for some of their cakes. With the addition of butter and eggs, customers would be able to reproduce Dapur Cokelat cakes in their own homes.
"Our customers love it," Ermey said. "[The pre-mixed formula] also caters to their growing hobby of cooking at home during the pandemic."
Dapur Cokelat also set up pick-up points to facilitate their deliveries.
"These pick-up points guaranteed the freshness of our products and made our delivery costs more affordable," Ermey said.
The company has since rehired the employees they laid off and improved sales.
Today, Dapur Cokelat operates 29 outlets and 45 pick-up points in seven cities in Indonesia. It has one production kitchen and five central kitchens to supply ingredients and products to all of its outlets.
The company also has approximately 1,000 people on the payroll.
Continuing to innovate
At the 21 st anniversary celebration, the pastry shop also launched a Dapur Cokelat delivery app.
"To get ahead, we really have to keep up with today's technology," Okky said.
The company also plans to add 15 more pick-up points in Greater Jakarta and East Java by end of the year.
"It is my dream to establish Dapur Cokelat from Sabang to Merauke so that everyone [in Indonesia] will be able to taste our delicacies," Ermey said.
Ermey also envisions setting up a culinary school for children coming from less fortunate backgrounds.
"The main goal is to equip them with knowledge and skills to start their own culinary businesses so that they will be able to support themselves and the people around them," she said.
Dapur Cokelat's founders talk struggles, innovation and surviving cancer have 1636 words, post on www.thejakartapost.com at July 1, 2022. This is cached page on Law Breaking News. If you want remove this page, please contact us.