JP Staff (The Jakarta Post)
Jakarta   ●

Thu, June 23, 2022

2022-06-23

14:00

31

19e180299dbaf1eff1f381413fdff5e5

1

Lifestyle

Indonesian-diaspora,family-business,Shizuoka,Indonesian-in-Japan,Japan,Kita-HalalMart,hangout

Free
Although settling down in Japan may provide opportunities they would not have had in Indonesia, diasporic communities may experience several setbacks along the way, namely a lack of a sense of belonging, as well as cultural marginalization.
Trying to fit into a place far from home where the people have different cultures can lead to culture shock. Although this phenomenon is normal, to some extent, it can transform into the anxiousness of fearing reverse culture shock, particularly knowing that one's time abroad is impermanent, which is when the lack of a sense of belonging and identity crisis kick in.
Since moving to Shizuoka, Japan, three years ago, Reza Montazery Permanda, 26, has had to adapt to distinct local cultures and customs, such as interacting with neighbors and managing household waste.
"Japanese people are so sensitive to noise and privacy, so I've become more careful when doing any activities to ensure I don't disturb them," said the native of Bandar Lampung.
"On the other hand, the Japanese are very strict about hygiene, for example, sorting waste based on its composition. So, I've become more thoughtful in things I buy to avoid any difficulties [when I dispose of stuff]. Plastic bottles and cans can only be disposed of once a month, so I have to keep them at home."
However, getting used to stricter norms and rules has affected how Reza perceives his identity as Indonesian, especially when he starts comparing the differences between how those countries handle public service and other essential issues like the educational system and citizenship data regulation.
"I've got used to a system and regulations that are more organized," said Reza, who works in Japan as an embedded software engineer. "When I realize that Indonesia is still way behind that, I assume I will re-experience culture shock when I return to Indonesia someday."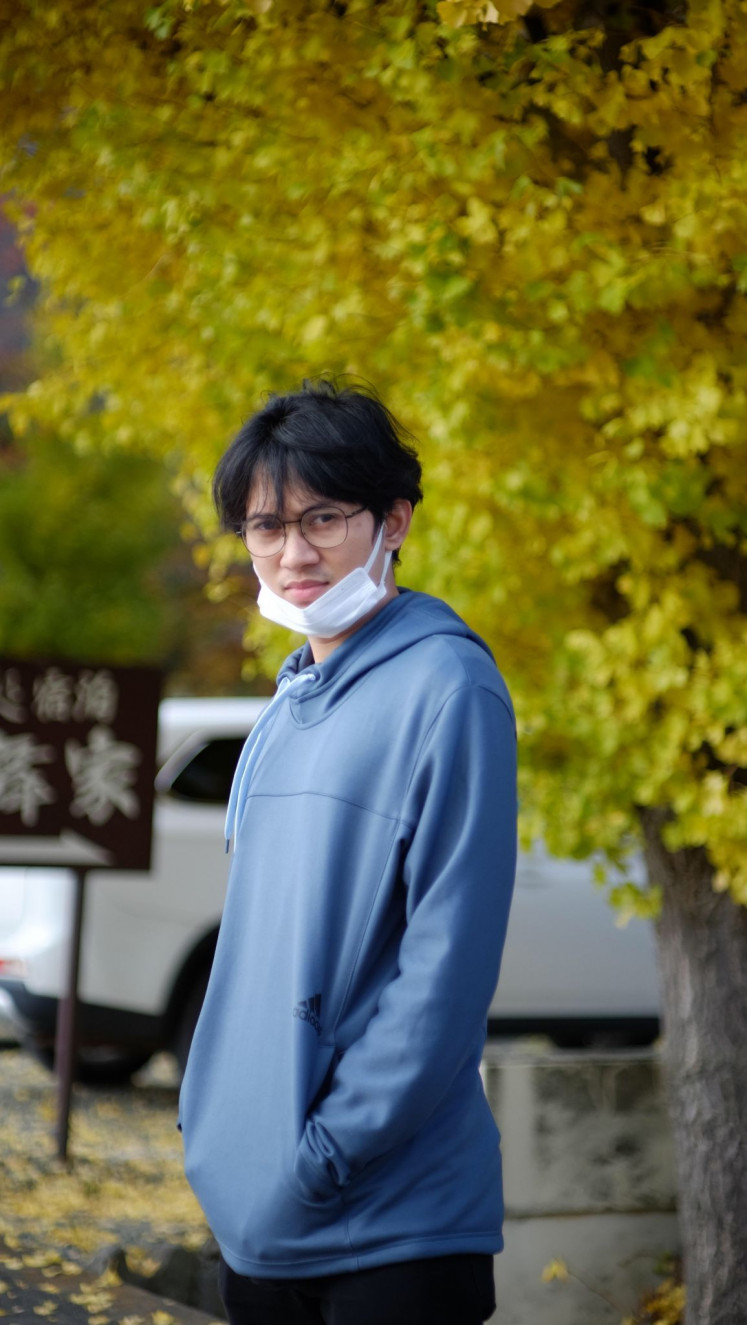 Missing home: Reza Montazery Permanda says homesickness is not merely about the place, but also the people. (Courtesy of Reza Montazery Permanda) (Courtesy of Reza Montazery Permanda/Courtesy of Reza Montazery Permanda)
Comparing characteristics, changing perceptions
Occasionally, these concerns are also shared with fellow members of the Indonesian diaspora in Japan during casual conversations. Reza and his friends tend to discuss their lack of national pride by making comparisons — from the mentality of the two societies and the respective governments' responses in times of crisis.
"Frequently, we will vent [and say] something like, 'Unlike the Japanese who have a strong awareness about vaccines, many Indonesians will refuse it until it becomes a requirement to go to the mall,' or 'Japan's prime minister at that time [Yoshihide Suga] resigned after he failed to handle the pandemic — [it's] something that [would never happen] in Indonesia'," Reza said.
"In short, we discuss the [reasons behind the] lack of our [national pride] a lot. [We] may be biased, but this is how we feel."
The dynamic slightly differs for Kusumah, who has spent roughly 30 years in Japan. Starting his journey in Japan as a participant in the "On the Job Training" program in 1982, the 60-year-old man has witnessed significant changes in how the Japanese perceive foreigners in general.
"When I was here [in Japan] the first time, they were so kind, friendly and welcoming," said the man who is known as Akang, Sundanese for elder brother, by fellow Indonesians.
"However, since 1995, when [the government of] Japan finally allowed roughly 5,000 Japanese descendants from Latin America to enter and disperse throughout the country, the Japanese started to become a bit closed off. Especially because of the way the Japanese government indulged Japanese descendants from Latin America [at that time]."
For context, following the abolition of feudalism at the end of the 19th century, a large number of Japanese left their country to escape poverty. Their destination was mainly Latin America, primarily Brazil, Peru, Mexico, and Chile, as the region needed laborers at a time when predominantly white countries would discourage non-white immigration.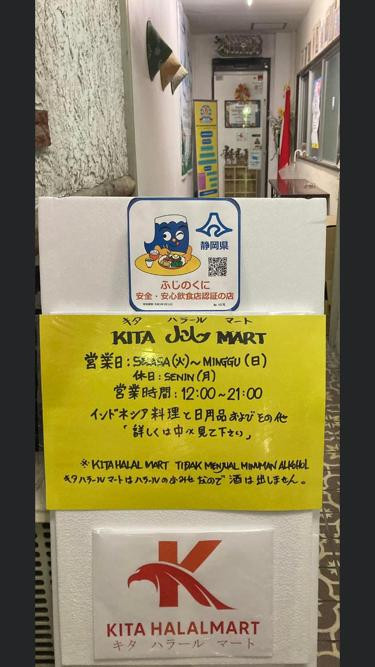 Halal grocery store: Kita HalalMart includes the Indonesian language in its signage. (Courtesy of Kusumah) (Courtesy of Kusumah/Courtesy of Kusumah)
A century later, at the end of the 20 th century, Japan was in the middle of its largest-ever economic boom. The boom attracted illegal immigrants from neighboring Vietnam and the Philippines, as well as less wealthy South Asian nations such as Sri Lanka and Bangladesh, which the Japanese government disfavored due to cultural differences.
Yet, the country still needed workers — especially for the so-called "three K", kitsui, kitanai and kiken – difficult, dirty and hazardous sector that most Japanese would avoid.
The government's solution to the problem was to admit the descendants of the Japanese who had migrated to South America under the assumption that they would be more easily absorbed into Japanese society because of their ancestry.
This decision, however, proved to be contentious, as those people were Nisei or second-generation — meaning they were culturally more Latin American than Japanese. Most of them had difficulty fitting in, and by the end of the boom, many had returned to South America.
According to Kusumah, the fiasco affected the Japanese attitude to immigration even today.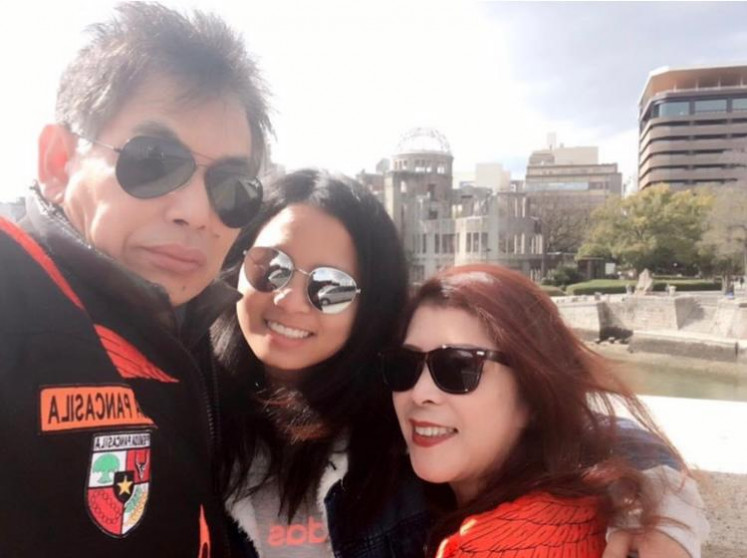 'I love Indonesia': Kusumah and his family are still adamant about remaining Indonesian citizens after living in Japan for years. (Courtesy of Kusumah) (Courtesy of Kusumah/Courtesy of Kusumah)
'I am still Indonesian'
Kusumah took his wife for the first time to Japan in 1990. His wife, Henny, was awed by Japan, and she envisioned that her new family would permanently stay there and that became a reality in 2007.
Their concern for the Indonesian diaspora led them to found the Indonesian Community (INTY), an organization that bridged various ethnicity-based communities such as Komunitas Kerukunan Sulawesi Jepang (Sulawesi Fellowship Community Japan), Paguyuban Pasundan Jepang (Pasundan Association Japan), among others. While the organization is inactive today, the INTY notably worked with the Indonesian Embassy in Tokyo to help Indonesians regarding immigration and consular issues.
Now, the couple are still actively involved in some diasporic organizations, including Persatuan Pelajar Indonesia (Indonesian Students' Association), Komunitas Indonesia Shizuoka (Shizuoka Indonesian Community), Nahdlatul Ulama Shizuoka and Kokusai Kotoba Gakuin (International Language Institute), as well as a consultancy, Carmelia, for foreigners in Shizuoka under the local government.
Besides their involvement in the diaspora communities, the married couple has a unique way of uniting fellow Indonesians: a grocery store. Together, they run Kita HalalMart, a halal resto and grocery store, which also serves as an information center for students, interns or any Indonesians in Shizuoka. The shop has been positively received by the members of the diaspora.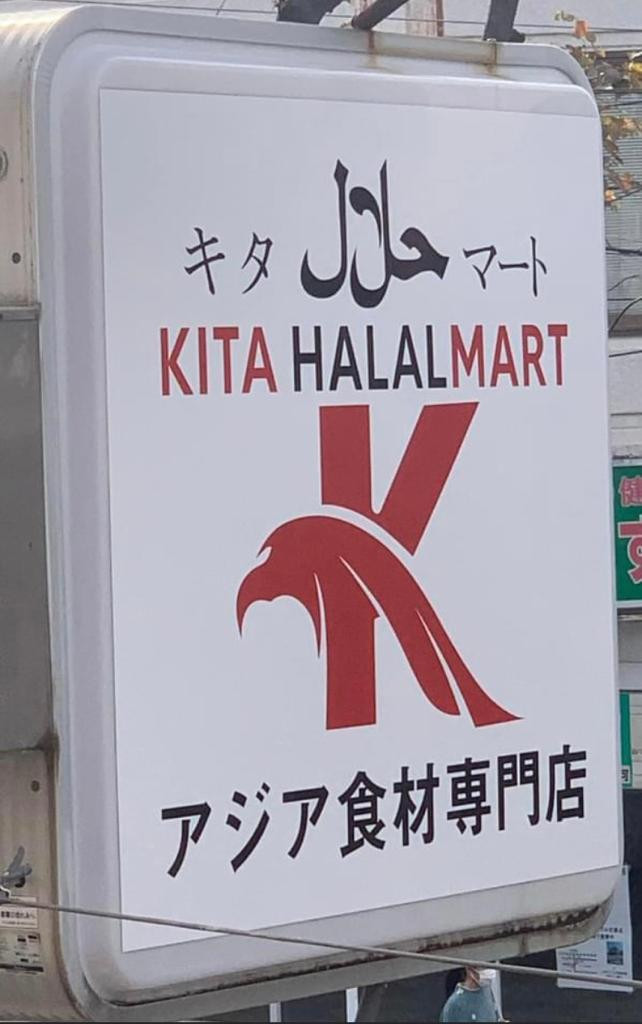 Family business: Kita HalalMart run by Kusumah and his family has been helpful to fellow Muslims in Japan. (Courtesy of Kusumah) (Courtesy of Kusumah/Courtesy of Kusumah)
"Kita Halal Mart is a platform for members of the Indonesian diaspora who miss the cuisine and Indonesia's local spices," Kusumah said.
Ultimately, despite Kusumah and Henny's years of living and blending in with the Japanese, as well as Reza's faltering pride as an Indonesian, they all say the same thing: they are still Indonesians, and they will remain so.
"My wife, daughters and I are still Indonesian citizens," Kusumah insisted. "With all its faults, I still love Indonesia."
For Reza, a sense of belonging is not only a matter of a place — but the people.
"I don't feel that [sense of belonging] here, [and I still] miss my hometown. I get the idea of a sense of belonging from a family perspective. Because I don't have family here, I don't feel I belong here."
ohmg
Sense of belonging: A snapshot of the Indonesian diaspora in Shizuoka have 1409 words, post on www.thejakartapost.com at June 23, 2022. This is cached page on Law Breaking News. If you want remove this page, please contact us.