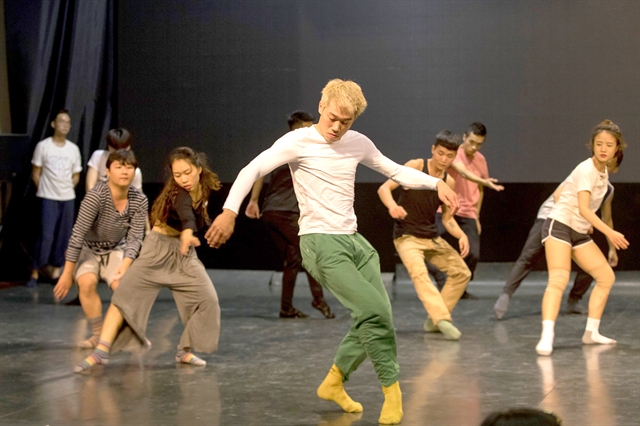 HÀ NỘI — A contemporary dance performance by choreographer Vũ Ngọc Khải will premiere in Hà Nội on December 6. 
Entitled Bão Xuyên (IntraStorm), the show is a collaboration between 1648km dance troupe and The Japan Foundation Centre for Cultural Exchange in Việt Nam with the support of T-group, The Core production, Navigator Studio, and Meraki Saigon.
The theme of the performance is centred around concerns about the environmental impact on the planet in the future, especially during the past year.  
"Will humanity be held accountable for the destruction of nature, or is everything in a samsara?" asked Khải. 
"Acting like they are saving the Earth when in fact, humans are merely saving themselves. No one is irrelevant when humans have satisfied their thirst for pleasure at the cost of diseases and natural disasters.
"Anyone can save themselves, save humanity by changing small habits in everyday life," he said. 
The choreographer mentions the relationship between humans and Mother Earth. 
Through the dance, Khải shares a perspective on life's origin, integrity, and magnitude hidden in a small seed. The dances are linked to hurricanes sweeping away all human knowledge about natural disasters and epidemics. 
IntraStorm also mentions the importance of the bond between family members and parents' role in nurturing and loving children properly.
The prejudice about success and happiness in modern society has turned humans into robots and zombies, making them lose their empathy ability and gradually forget how to connect with true compassion, he says.
Through contemporary dance language combining with live music and visual arts, IntraStorm offers the audience a colourful outdoor art performance.
Khải won first prize at the Avang Young Choreographer Competition in South Korea in 2018. He is one of the young Vietnamese artists who has worked for many years in Europe and gained achievements abroad. 
As the artistic director of 1648km, he is building a bridge between Vietnamese and international artists. With his partner, he creates performing arts programmes including Non, Into the Well and The Nest and he is active to organise projects for the community such as From I To Others and Made in Vietnam.
Before IntraStorm, Khải had a contemporary dance workshop along with the live performances of musician Trí Minh and viola performer Ngọc Thủy for moving art lovers. 
Attending the workshop, participants had the chance to get to know about contemporary dance materials, natural physical contact and building up mental capacity.
These are all knowledge and techniques practiced by Khải, constantly refining from the working process, from the ability to carefully observe life and draw from his own experience in working hard, health care, and injury recovery.
IntraStorm will begin at 7.30pm, at the Japan Foundation courtyard, 27 Quang Trung Street. – VNS
Contemporary dance show performed in Hà Nội have 700 words, post on vietnamnews.vn at November 30, 2020. This is cached page on Law Breaking News. If you want remove this page, please contact us.