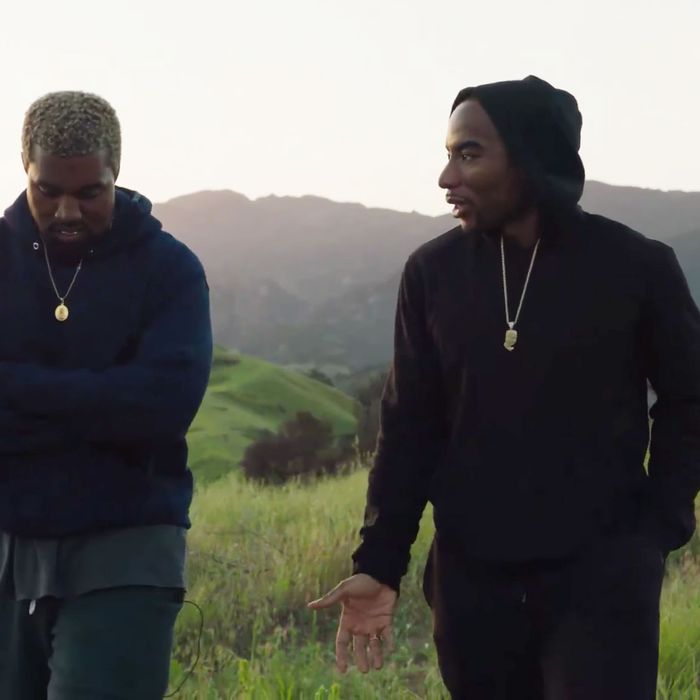 Photo: Youtube/Kanye West
Where do we begin? For the first time in a long time, Kanye West has spoken his mind offline, in a nearly two-hour-long interview with the Breakfast Club's Charlamagne Tha God . The two touched on everything you've been wondering about Kanye for the last year and a half (for some fans, maybe even the last five years). They discussed his politics, his mental health, his relationship with Jay-Z and Beyoncé, and even Barack Obama. It's a lot to process, but here are the biggest things we learned.
His mental breakdown was the culmination of a mountain of stress briefly hospitalized for what was then said to be exhaustion, though Hot 97's Ebro Darden recently revealed that Kanye told him the cause was actually an opioid addiction (which Kanye confirmed to TMZ today, saying he was prescribed them following plastic surgery). Kanye says it was the perfect storm of stress factors that caused what he now sees as a "breakthrough," not a breakdown:
"Fear, stress, control, being controlled, manipulation, being a pawn and a chess piece in life, stressing things that create validation that I didn't need to worry about as much. The concept of competition and being in competition with so many elements at one time, in a race against time."
Specifically, he talked about The Life of Pablo not doing well on radio, which he attributes to him being blacklisted over Taylor Swift ("ever since the Taylor Swift moment, the connection with radio has never been the same. Whatever powers that be, it was much harder after that.") and L.A. Reid leaving Universal ("he had that radio locked"). Additionally, he says he felt "helpless" after his wife Kim Kardashian was robbed in Paris and that he failed to protect her.
Other stressors: Weeks before the robbery, Kanye says he was attacked by the fashion press for showing up late to his Yeezy Season 4 show ("They LeBron'd me," he says referring to the negative publicity LeBron endured after leaving for Miami. "I felt it was the fashion community getting the right to say nigger without saying it — 'If you get out of line, boy, we gon' roast you.'"). He says he also felt burnt out from the Saint Pablo Tour, performing four nights a week. "It felt like all these things were almost set up to put me on meds, to break me down," he says.
He's on medication, but not in therapy
"When I hit that hospital, it was like a bird hitting the window. I could've not made it out of there, but I survived. I'm happy it happened. I'm happy to have gone to the other side and back. The moment when you're in a hospital bed and you tell your friend, 'Don't let this person leave my side' and they put you inside of an elevator and take all your friends away from you, that was the scariest moment of my life. I thought I was gonna get killed. My wife wasn't in town and I told them not to leave my side until she gets there. They were forced to leave my side. That has to change. I cannot express to you how traumatizing that moment is. And then you wake up drugged the fuck out … [Medication] is an imperfect solution to just calm me down, but there's a lot of ways to calm down."
Still, he says there "were elements of going to the hospital that were fire," meaning it allowed him to have an out-of-body experience. It also taught him, for the first time, what it was like to feel insecure and the feeling forced him to relearn humility: "I had lost my confidence. I never had the empathy for people who lacked confidence. It just wasn't Black Panther superman level confidence." He says he'd now like to change the stigma of the word "crazy" and the stigma of mental illness.
He's upset Jay-Z and Beyoncé didn't come to his wedding his Beyoncé diss went too far depends on how Jay-Z perceives their relationship: "If we're brothers and we are family, then it's my family, too. If we're business associates, then it's too far." Regardless of the tension, Kanye says they've texted on positive terms, still love each other, and he's confident they'll eventually meet again in person.
Why he loves Donald Trump same sentiment he expressed to T.I. , Kanye says he loves Donald Trump because he feels they are both outsiders and seeing an outsider win the presidency gives him hope for himself.
"I don't have all the answers that a celebrity is supposed to have. But I can tell you that when he was running, I felt something. The fact that he won proves something. It proved that anything is possible in America that Donald Trump could be president. I'm not talking about what he's done since he's been in office. Remember when I said I was gonna run for president? I had friends of mine making jokes, making memes, talking shit. Now it's proven that that could happen … When I see an outsider infiltrate, I connect with that. It's a time for the unconventional."
Trump being racist isn't a deal-breaker for him
He didn't meet with Trump because of his breakdown
He has some theories about why he and Barack Obama had a falling out calling him a "jackass" in an interview. "I ain't got no problem with these rappers, but you know I'm your favorite," he's says. "But I'm not safe. But that's why you love me. So just tell me you love me. And tell the world you love me. Don't tell the world I'm a jackass, I'm fighting hard enough."
Kanye says he still feels owed an apology for the "jackass" comment: "The same person who sat down with me and my mom, I think should have communicated with me directly and been like, 'Yo, Ye, I was in the room and it was just a joke.' … I love Obama, I just think we were in a period where he had so much stuff to deal with he couldn't deal with a wild card like me."
What his own presidential campaign might look like
He bought 300 acres to build a community on
He's got feelings, bro
He started using Bitcoin in protest of the Harriet Tubman $20 bill he thinks was a choice , anyway): "That was the moment I wanted to use Bitcoin, when I saw Harriet Tubman on a $20 bill. It's like all the slave movies, why you gotta keep reminding of us slavery? Put Michael Jordan on the $20 bill … Certain icons are just too far in the past and not relatable. And that's what makes them safe."
His new music will sound like "Real Friends" The Life of Pablo 's "Real Friends."
Everything We Learned From Kanye's Revealing Charlamagne Tha God Interview have 1731 words, post on www.vulture.com at May 1, 2018. This is cached page on Law Breaking News. If you want remove this page, please contact us.