Programme promotes family's role in domestic violence prevention
The Ministry of Culture, Sports and Tourism and the Vietnam Women's Union agreed to implement a programme to enhance the role of families in preventing domestic violence.
The deal was signed by Minister Nguyen Ngoc Thien and President of the Union Nguyen Thi Thu Ha in Hanoi on November 21.
The programme will be piloted in six provinces and cities across the nation, namely Ha Giang, Yen Bai, Quang Binh, Dak Lak, Tien Giang and HCM City.
It aims to enhance awareness of the role of the family in educating attitudes, lifestyles and behaviours among family members, thus preventing domestic violence.
It is also expected to help reduce the number of cases and the seriousness of domestic violence in the localities while utilising the resources of the two sectors to build happy families.
Under the programme, legal documents will be completed to help women build happy families, with a focus on domestic violence prevention and family-based education.
The two sides will strengthen communications to improve the quality of family relationships and organise activities including Vietnam Family Day (June 28), The National Action Month against Domestic Violence in response to the International Day of Happiness (March 20), and International Day for the Elimination of Violence against Women (November 25).
Training courses will be held to build capacity for local staff and community members involved in domestic violence prevention and control.
Studies will also be conducted to improve family-based education in the coming years.
11 seamen rescued
A total of 11 seamen from the distressed fishing ship BD99047 TS were rescued and brought safely to Phú Quý Island in the southern province of Bình Thu?n yesterday afternoon.
Last Wednesday, while fishing in the sea 96 nautical miles off Phú Quý Island, the fishing vessel, owned by Nguy?n Công Ðông, from the central province of Bình Ð?nh, suffered a breakdown.
Despite the seamen's best efforts, the ship could not be fixed, so it drifted on the sea, putting the crew at risk.
The ship sent out distress signals last Saturday and was rescued by the High Command of the Marine Police Zone 3.
Sóc Trang asked to focus on products with high value
Prime Minister Nguy?n Xuân Phúc has suggested the Mekong Delta province of Sóc Trang further promote tourism development and agricultural restructuring, and study to produce high-value products, towards becoming a medium-income locality in the region.
During his working session with key officials of Sóc Trang in Hà N?i yesterday, the PM highlighted the potential and advantages for Sóc Trang to further develop in the future.
He asked the locality needs to review its development plan, saying that this should focus on agriculture restructuring, poverty reduction and climate change adaptation.
Sóc Trang needed to consider developing it into the country's second or third largest shrimp material area, and study to produce products with high value such as cow breeding along with rice cultivation, he added.
Attention should be paid to attracting businesses to invest into the locality, and promote processing industry, thus creating more jobs for locals, he stressed.
He also urged Sóc Trang to build a national startups programme towards developing start-up enterprises in the locality.
At the session, leaders from several ministries recommended the locality to devise solutions to climate change and drought, mobilise resources to upgrade transport infrastructure, and attract more foreign-invested projects.
Concluding the session, PM Phúc praised the local authorities and people for their efforts in implementing the national target programme on new-style rural area building.
However, the locality had yet to fully tap potential and advantages for development, he noted, adding that Sóc Trang should take more drastic measures to reduce the rate of poor households in the coming time.
Local officials said Sóc Trang was working to foster tourism and service development, while calling for investment in industry and in building a high-speed train to Côn Ð?o, aiming to develop spiritual tourism.
Sóc Trang is a disadvantaged locality in the country with its economy mainly depending on agriculture and aquaculture.
The province has been affected by saline intrusion and prolonged-drought early this year, severely causing damage to agricultural production. These make it diffult for the locality to realise 8-per cent growth target this year.
Cam Pha Thermo-electricity Plant catches fire
The battery charging room of the Cam Pha Thermo-electricity Plant in Cam Pha City in the northern province of Quang Ninh caught fire at 6am today.
The room was destroyed. No casualties were reported.
The initial investigation revealed the fire had been caused by a short circuit, said Vu Quy?t Ti?n, chairman of the Cam Pha City People's Committee.
The case is under further investigation.
Hai Duong preserves Ca Tru's artistic value
A Ca Tru (ceremonial singing) performance programme was organised on November 21 in Tu Ky district, Hai Duong province, by the provincial Department of Culture, Sports and Tourism.
The event attracted the participation of 70 artisans from six Ca Tru clubs inside and outside the province.
It also saw the performance by outstanding artisans, including the 93-year-old Nguyen Phu De, Truong Quang Hien, and the 9-year-old kid vocalist Pham Thi Giang of the Dan Chu club.
During the event, the Ca Tru clubs performed 11 performance acts with various melodies.
The programme served as a chance for the local Ca Tru clubs to share experience, thus helping to preserve and uphold the value of the art.
Ca tru is an ancient genre of chamber music featuring female vocalists, with origins in northern localities of Vietnam, including Hanoi, Bac Ninh and Vinh Phuc in the 15th century. It was inscribed on the list of Intangible Cultural Heritage in need of urgent safeguarding in 2009.
Ca Tru is a complex form of lyrical poetry using lyrics written in traditional Vietnamese poetic forms.
A Ca tru group comprises three performers: a female singer who use breathing tecniques and vibrations to sing, while striking a wooden box, and two instrumentalists who play a three-stringed lute and a praise drum. Some Ca tru performances also include dance.
The varied forms of Ca tru fulfill different social purposes, including worship, entertainment, singing in royal palaces and competitive singing.
Int'l aid urged for new rural areas
Comprehensive policies, particularly those for disadvantaged areas and those vulnerable to impacts of climate change, are the core of the Government's programme to build new-style rural areas during the period of 2016 to 2020.
The head of the agriculture ministry's International Co-operation Department, Tr?n Kim Long, said yesterday at an agriculture co-operation forum that comprehensive policies are expected to speed up socio-economic development in rural areas across the country.
He said it was necessary to diversify resources for the programme and attract private investments. "Overseas assistance including funding and capacity building is also important," he said.
The country representative of the UN Food and Agriculture Organisation (FAO), Jong Ha Bae, applauded the programme's achievements since 2010 with improvements in electricity supply, transport, schools and healthcare in rural areas.
However, he pointed out pending problems such as the high rate of poverty, lack of agriculture insurance and of accessibility to funding.
FAO will continue assisting Vi?t Nam to improve its legal framework and put in place innovate policies to support farming households so that they can better access markets, apply new technologies and increase income.
Carolina V. Figueroa Geron, an expert from the World Bank, said that through the Programme-for-Results (PforR) financing instrument, the organisation helped Vi?t Nam improve quality of plan-making, supervising and project management.
Also yesterday, Minister and Head of the Government Office Mai Ti?n Dung, who leads a team inspecting Government agencies' implementation of the PM's directives, delivered a message to agriculture minister Nguy?n Xuân Cu?ng.
In it, the PM asks Cu?ng to address seven key tasks relating to production and rural area development.
Given that enterprises face difficulties in accessing large areas of farming land, the ministry is asked to speed up land aggregation in the country.
The PM also asked for better quality natural disaster forecasting and response to climate change impacts.
The ministry is required to review criteria for certification of new rural areas because some criteria fail to match reality.
When implementing the Government's New Rural Area Programme, some localities were too concentrated with infrastructure and less with reforming the economic structure to increase farmers' income.
Stronger actions were also urged to ensure food safety.
The fifth task set out by the Prime Minister is tightened control of fertiliser, pesticide and animal feed and medicine.
PM Phúc has decided to close natural forests in the Central Highlands and to ban the transfer of non-productive forest land to other projects. He asked for investigation and strict punishment to deter deforestation in Kon Tum and the central province of Qu?ng Nam.
The final task was a mechanism to assist fishermen affected by the massive fish deaths in four central provinces as a result of industrial pollution.
Pre-paid toll cards proposed
The Directorate for Roads of Vi?t Nam (DRVN) has asked the Ministry of Transport for permission to test cashless toll collection on one-stop toll highways.
In a document sent to the ministry, the DRVN said that there were more than 100 fee collection stations in the country. Of which, 86 were under the ministry's management and 15 were under local authorities' management.
Currently, the ministry has applied electronic fee collections for 37 tolls along the National Highway No1A and H? Chí Minh Highway.
An electronic toll collection station determined whether vehicles are enrolled in the programme, alerted toll collectors about those that were not, and electronically debits the accounts of registered car owners without requiring them to stop.
Vehicles would be equipped with a tag on the windshield with information to be read by the station's sensor. Those without the tag would have to stop and pay manually.
The ministry plans to replace toll booth operators with electronic collection systems. The move aims to reduce traffic jams and delays at toll gates and cut costs.
According to the ministry, in many countries, electronic fee tolls and manual fee tolls are used on the same highway.
It said vehicles would pay via prepaid Card of State-owned VietinBank.
VietinBank would be assigned to install the pre-paid card system as a trial on one-stop toll highways. The model will be implemented from now on until the end of this year.
National Highway No1A connects L?ng Son and Cà Mau, running more than 2,300km through 32 cities and provinces, while the H? Chí Minh Highway runs along the west of the country, connecting Cao B?ng and Cà Mau via the Central Highlands with a total length of 3,167km.
HCM City co-operative launches 50 new buses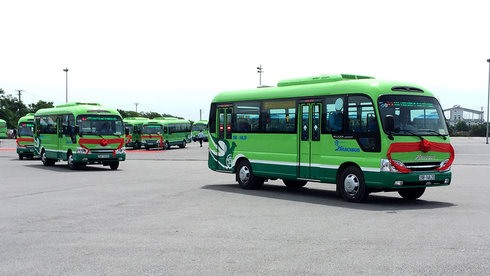 The buses, which cost a total of VNÐ112 billion (US$5 million), have a capacity of 80 passengers and are equipped with modern devices like a bus monitoring system, as well as cameras and speaker systems.
The low-floor buses with large doors are more convenient for passenger transport, Nguy?n Van Tri?u, director of the co-operative, said.
The fare on the route is VNÐ6,000 (27 US cents) for normal passengers and VNÐ2,000 for students.
HCM City to allow way stations to eliminate illegal bus stops
The HCM City Department of Transport will designate nine pick-up and drop-off points early next year for buses plying eastward in an effort to root out illegal bus stations and unlicensed transport firms.
Now regular buses are only allowed to pick up and drop off passengers at the starting and end points, which causes them great inconvenience.
Starting in early 2017, in preparation for the Lunar New Year, District 2 will have two way stations, District 9 will have three along Hà N?i Highway, and Th? Ð?c District will have four on Hà N?i Highway and National Highways 1 and 13.
"This is an effort to cope with illegal stops and unlicensed buses, which are mushrooming in the city," the government website quoted a department official as saying.
Unlicensed buses often pretend to have signed tourism contracts to avoid going to designated bus stations, he said.
"Unlicensed buses now have their own booking switchboards and websites to sell tickets in advance," the official said.
"They don't go to bus stations, don't pay fees, don't pay taxes and offer unfair competition to those who follow the law."
In a report to the Government, HCM City said it reduced the number of illegal bus stops from 148 last year to 85 now, but admitted that 27 of them are at unsafe spots that also block traffic.
The city has 724 transport firms which operate over 21,400 buses.
This year authorities fined 3,765 buses a total of VNÐ5.7 billion (US$256,000) for stopping illegally en route and cancelled 255 licences.
"Illegal stops and unlicensed transport firms have created an unhealthy business environment, causing customers to suffer," the official said.
They contribute to social disorder and cause revenue losses to the Government and traffic congestion, he added.
The department has been instructed to review all route management data culled from GPS devices installed in all buses.
"HCM City has bus stations in four directions, so we will consider a comprehensive plan to properly connect routes and make it convenient for passengers," the official said.
To deal with the proliferation of illegal stops and unlicensed buses, especially during the upcoming Lunar New Year – in late January 2017 – the department held a meeting with related authorities to discuss solutions such as regulating what kind of buses must go to inter-provincial bus stations, eliminating the 85 illegal bus stops, pointing out the responsibilities of related authorities and setting up task forces to manage transport activities.
Programme promotes family's role in domestic violence prevention

The Ministry of Culture, Sports and Tourism and the Vietnam Women's Union agreed to implement a programme to enhance the role of families in preventing domestic violence.
The deal was signed by Minister Nguyen Ngoc Thien and President of the Union Nguyen Thi Thu Ha in Hanoi on November 21.
The programme will be piloted in six provinces and cities across the nation, namely Ha Giang, Yen Bai, Quang Binh, Dak Lak, Tien Giang and HCM City.
It aims to enhance awareness of the role of the family in educating attitudes, lifestyles and behaviours among family members, thus preventing domestic violence.
It is also expected to help reduce the number of cases and the seriousness of domestic violence in the localities while utilising the resources of the two sectors to build happy families.
Under the programme, legal documents will be completed to help women build happy families, with a focus on domestic violence prevention and family-based education.
The two sides will strengthen communications to improve the quality of family relationships and organise activities including Vietnam Family Day (June 28), The National Action Month against Domestic Violence in response to the International Day of Happiness (March 20), and International Day for the Elimination of Violence against Women (November 25).
Training courses will be held to build capacity for local staff and community members involved in domestic violence prevention and control.
Studies will also be conducted to improve family-based education in the coming years.
Dong Nai raises awareness of Zika among workers
The southern province of Dong Nai is stepping up efforts to increase awareness of Zika virus among workers.
Director of the provincial Preventive Health Centre Bach Thai Binh said the locality is home to tens of industrial parks with around 900,000 workers.
Many of them are living in Ho Chi Minh City, and Ba Ria-Vung Tau and Binh Duong provinces, where Zika infections were detected, he added.
Therefore, the province is coordinating with the labour federation and the management board of industrial parks to increase communication campaigns, he said.
The health sector warned workers who regularly travel to disease-affected areas to visit medical facilitations for a check-up.
The province also held training courses on Zika detection for nurses and doctors.
A number of campaigns have been launched to kill mosquito larva in 171 communes and wards.
Vietnam detected 65 Zika cases by November 19, including 62 in Ho Chi Minh City.
The Zika virus is transmitted to humans primarily through Aedes aegypty mosquito bites and sexual intercourse.
The symptoms of Zika infection include fever, conjunctivitis, headaches and muscle pains. Zika infection during pregnancy may lead to microcephaly in babies, which is responsible for incomplete brain development and an unusually small head.
Currently, there is no vaccine for the virus.
Quang Nam's coastal localities face serious landslides
Binh Trung village's hamlet 3 once had 70 households, but the majority of them have moved and left desert houses.
Vo Minh Cong's family, one of the six households choosing to stay, has their backyard intruded by seawater. Cong, 71, said that his hamlet locates in the estuary of Truong Giang river, thus have been affected by landslide for years.
This year, although it has not been hit by devastated storm, the hamlet has faced rapid and unexpected landslide and locals were not able to respond, he said.
Along with Binh Trung, Tan Lap and Thuan An villages have also been ravaged by landslides.
According to Nguyen Tan Hung, Vice Chairman of the Tam Hai commune People's Committee, in 2012, the Chu Lai Open Economic Zone's Management Board supported the locality to build a 1.8km dyke with total investment of 48 billion VND.
However, one end of the dyke with a 200m section in Tan Lap village has been washed by sea wave, destroying protective forest in the area.
Currently, Tam Hai island commune has 60 vulnerable areas where locals need urgent evacuation, the majority of whom are poor, he said, adding that the aid of 20 million VND per households is not enough for them to resettle.
He underscored that Tam Hai commune hopes to receive more investment to construct about a 4.5km dyke. Locals have also actively plant mangrove forest with a newly-planted area of 17 hectares.
Hoa Sen grad turns classic characters into papercraft
A new graduate of Hoa Sen University in HCM City has created a book of papercrafted figures about tuồng, a Vietnamese classical drama originating in the 12th century.
Nguyễn Thị Kiều Diễm spent several months working on the book Hát Bội Hành Tội Người Ta (Singing Tuồng Fascinates People), which contains seven colourful papercrafts and explanations about tuồng.
"There are many books about Việt Nam's traditional music and theatre, but only a few books feature tuồng. So, I decided to choose papercraft to attract young readers, particularly children, to the art," said Diễm.
Papercraft uses paper or cards to create three-dimensional objects that can be folded, cut, glued, molded, stitched or layered.
"I researched and learned about papermaking from books and the internet. I spent four hours and a half making a template. I also talked with People's Artist and painter Hoàng Song Hào. However, writing the explanations was the most difficult job," she said.
Diễm used information from three books on tuồng written by cultural researchers Nguyễn Vĩnh Huế, Lý Tuần Khắc Dụng, Nguyễn Lộc and Võ Văn Tường.
Hát Bội Hành Tội Người Ta features tuồng and its performance styles since its development in the 17th century.
Along with traditional arts such as chèo (traditional opera) in the north and cải lương (reformed theatre) in the south, tuồng has contributed to the Vietnamese spirit and character.
Tuồng was developed from a folk art to be a royal art. Its themes include monarchist loyalty and patriotic duty, which define the play's structure, language, music, colours, struggles and personality of its characters.
The art form includes singing and dancing accompanied by music, all of which is highly stylised and filled with symbolism.
The art consists of three performance styles: tuồng phò (plays based on old Chinese stories), tuồng đồ (plays about historical Vietnamese events and national heroes) and tuồng hài (comedies about people in daily life).
"My papercraft features tuồng artists on stage, who wear make up and wear beautiful costumes. Colours play a very important role in tuồng. For example, a face in black represents a bad character while a red face is a good person," said Diễm.
She said that tuồng requires performers to use their whole body, from the head, eyes, fingers and elbows to all of their muscles.
Diễm's book was honoured at the Vietnam Creative Festival launched by the Vietnam Creative Entrepreneurs Network this year, which aims to support young people in HCM City to develop their talent. The book is not for sale.
Festival honours young filmmakers
Young filmmakers from Singapore and Việt Nam won awards at Gặp Gỡ Mùa Thu 2016 (Autumn Meeting 2016), the cinema event held in Đà Nẵng between November 8-14.
In the Art-House Film Corner, Chris Yeo's A Land Imagined beat four others to receive the Autumn Meeting Grand Prix and a cash prize of US$5,000. The film was selected by a three-member panel including Paolo Bertolin, curator for Venice Film Festival in South East Asia and Benjamin Illos, programmer for the Cannes' Directors' Fortnight.
"A Land Imagined deserved to win the highest award at the Autumn Meeting. The story is very interesting and Yeo's highly specific pitch convinced the juries," said Vietnamese Phan Nha Trang, who was the only Vietnamese contestant in the category.
Trang's Late Summer tells the story of a 60-year-old widow and her 50-year-old barber, both of whom work for an illegal border-crossing agency. In their last attempt to cross the border, they realise they are already on the other side of life.
This is the second year Trang attended the Autumn Meeting. She was awarded Short Film of The Future in 2014.
The Art-House Film Corner also showcased All That Remains of Japanese Yoshimasa Jimbo; Finding Home of Singaporean Nelson Yeo and Causeway of Malaysian Aw See Wee.
In the Entertainment Film-World category, the script for Chung Cư Thất Thủ (Apartment Has Fallen), by Lê Lâm Viên and Lê Hoàng, won the Producers' Choice award and a cash prize of $3,000.
"The cash prize is very useful for us. Now we have money for accommodation in HCM City at least for a while to finish a detailed script," filmmaker Viên said.
Chung Cư Thất Thủ was inspired from their daily life in an old apartment in HCM City. There are many people at different social classes living at the apartment, where it seems to be very busy from day to night. But the apartment has only entrance-way, and intrigue ensues.
"At the beginning, we just talked to each other for fun. When we spoke to our colleagues, we found that we had definitely written a script," said Viên.
Two scripts at the Entertainment Film-World, Con Heo Của Ngày Hôm Qua (Yesterday's Pig) by Nguyễn Huỳnh Diệu Hiền and Papa by Nguyễn Thị Mỹ Trang won Special Mention from the judge.
The Short Film of The Future award went to Chu Ánh Nguyệt and Tạ Minh Đức. Each of them receives $500. Actress Hoàng Thúy won Star Choice Award and a cash prize of $1,000.
The Autumn Meeting is a non-profit cinema event that aims to assist young filmmakers. It aims to0 unify and develop Vietnamese cinema and to stimulate cinematic discourse with other countries in Southeast Asia and Asia-Pacific regions.
The three Autumn Meeting events so far in 2013, 2014, and 2015 have received support from the profession and interest from both Vietnamese and international artists.
Autumn Meeting 2016 saw participation from special guests such as Georges Goldenstein, Cannes Festival's Manager of Cinefondation; internationally known South Korean actress Moon Sori; John Badalu, Programmer for Berlin Film Festival and Muge Demir, Programmer for Rotterdam Film Festival.
"Autumn Meeting is a chance for producers seeking new faces. It is not easy for young filmmaker like us to meet and pitch about our project with producers. This chance is very precious for us," said Viên.
Vietnamese traditional dances performed at Asian event
Vietnamese communities in Macau, Hong Kong, introduced the Asian Ethnic Cultural Performances 2016 with a number of special dances imbued with the Vietnamese cultural identity.
The event, which showcases the vibrancy of ethnic Asian cultures, was staged at the Hong Kong Cultural Centre Piazza on Sunday.
Programme highlights included an aboriginal dance performance by the Nunukul Yuggera Aboriginal Dancers from Australia, traditional Yosakoi and sword dance performances by Wa mono Live Nippon!! from Japan and traditional Persian music played by Iran's Vaziri Music Group.
Vietnamese non-professional dancers impressed the audiences with the Ô (Umbrella), Sạp (Bamboo) and Nón (Conical Hats) dances.
The Asian Ethnic Cultural Performances 2016 also presented the cultures of 16 other Asian countries and territories and ASEAN nations, including Hong Kong, Macau, Japan and India, as well as the Republic of Korea, Nepal, Bangladesh and the Philippines. Singapore, Malaysia, Thailand and Indonesia were also represented.
Besides traditional dances, visitors had the chance to enjoy a series of extension activities, including ethnic arts and crafts and traditional costume displays, food demonstrations and dance workshops, to experience the customs and cultures of distant places.
Annually presented by the Leisure and Cultural Services Department of Hong Kong since 2010, the event aims to promote cultural exchange by showcasing traditional ethnic music and dance performances by Asians residing in Hong Kong.
Additionally, it is expected to promote mutual solidarity and understanding among the people of different countries and cultures, oriented towards the common goal of building a peaceful, civilised and prosperous world.
Bình Dương win nat'l bodybuilding event
Bình Dương triumphed at the National Bodybuilding Championships which wrapped up in the southern province of An Giang yesterday.
After four days of competition, the team brought home six gold, two silver and four bronze medals. HCM City finished second with four golds, seven silvers and six bronzes, with hosts An Giang third with four golds, three silvers and five bronzes.
The event featured 80 bodybuilders from 12 provinces and cities such as An Giang, Bình Dương, Cần Thơ, Khánh Hòa, Lâm Đồng and the Ministry of Public Security, competing in 20 categories.
It was organised by the National Sports Administration and the provincial Department of Culture, Sports and Tourism.
Deputy premier demands investigation into fatal car-trailer truck crash
The deputy prime minister of Vietnam has directed that competent agencies probe a road accident in which a trailer truck rear-ended a car and killed four people while traveling in a northern province on the weekend.
Deputy Prime Minister Truong Hoa Binh, who also leads the National Traffic Safety Committee, requested in a fiat on November 20 that the investigation be carried out urgently.
Binh has sent condolences to the families of the dead and wounded victims, and demanded local authorities hold anyone involved accountable.
The committee's report showed that a trailer truck crashed into a seven-seater car from behind while driving on the Hanoi-Thai Nguyen expressway at 3:40 pm on November 19.
The car was carrying 10 passengers, four of whom died instantly while the other six were injured.
Giao Thong (Traffic) newspaper quoted Ngo Van Son, the driver of the car, as telling police officers that he had been hired to drive 10 people to Hanoi from Thai Nguyen to attend a wedding.
Son said that one of the passengers urged him to slow down as they traveled past the Yen Binh intersection in Pho Yen, a district-level town in Thai Nguyen.
He claimed to have signaled before moving the car to the right-hand side of the road but the trailer truck still rear-ended the seven-seater vehicle and pushed it for some distance.
The driver of the truck, Vu Van Hoang, said that he was driving 60m behind the car when it came to an abrupt stop because the seven-seater had driven past the exit ramp.
"Many vehicles were nearby, so I could not change lanes," Hoang said, adding that he had no choice but to brake swiftly.
The truck slammed into the car and pushed it for 10m, he recalled.
In Vietnam, three win American-style lottery jackpot in one month
If anyone has ever thought winning a jackpot is a rare occurrence, they should think again as a Vietnam-Malaysia joint venture has found three winners of its American-style computerized lottery this month.
The joint venture, Vietlott, said on November 19 that its 54th draw showed the 'Mega 6/45' jackpot combination of 09-23-33-38-41-42, with the winner to claim VND56.1 billion (US$2.48 million).
A ticket sold in the southern province of Ba Ria-Vung Tau has been discovered matching this combination, Vietlott added.
On November 13, the lottery's 51st draw found the third winner, who was entitled to US$3.17 million, after buying a ticket in Ho Chi Minh City.
A ticket holder from the southern province of Dong Nai also claimed nearly VND65 billion (US$2.9 million) pre-tax in the lottery's 46th draw on November 2.
Vietnamese laws dictate that a lottery winner pay a 10% income tax before receiving the jackpot.
Mega 6/45 has the jackpot probability of one in 8.1 million but the 54th draw had a better winning chance as over four million tickets had been sold, higher than normal.
Vietlott now has agents in nine cities and provinces, including Ho Chi Minh City, Can Tho City, An Giang Province, Binh Duong Province, Ba Ria-Vung Tau Province, Khanh Hoa Province, Dak Lak Province, and Danang City.
The computerized lottery was introduced in July as a result of cooperation between Vietnam's state-run lottery company Vietlott and an indirect subsidiary of Malaysia-based firm Berjaya Corp Bhd (BCorp), which was granted an 18-year investment license to operate the computerized lottery in the country in January.
As the name suggests, buyers of the lottery select any combination of six-numbers between 1 and 45 for VND10,000 (US$0.45).
The jackpot combination is randomly selected every Wednesday, Friday, and Sunday at 6:00 pm, and rolled over into the next lottery period should no winner emerge.
Apart from the jackpot, bonus prizes of up to VND10 million (US$446) are awarded to those with three, four, or five numbers matching the jackpot combination.
Australian national escapes death for heroin smuggling in Vietnam

A Vietnamese-Australian woman convicted of attempting to smuggle 1.6 kilograms of heroin from Ho Chi Minh City to Sydney had her death sentence commuted to life at an appeal trial on November 21.
The appeal court in Ho Chi Minh City said Nguyen Thi Huong, 73, earned the commutation for being honest and showing remorse during the investigation. The fact that she is old may have also been taken into consideration.
Huong was arrested at Tan Son Nhat Airport with the heroin hidden in soap bars in December 2014. She was checking in for a flight to Sydney.
She said she had visited Vietnam a month earlier and a Thai woman from Ho Chi Minh City's neighboring province of Ba Ria-Vung Tau gave her the soap to carry to Australia.
She said she did not know anything about the drugs, which were worth around VND10 billion (US$443,200).
In June, the Ho Chi Minh City People's Court decided to hold her fully responsible.
Vietnam has some of the world's toughest drug laws. Those convicted of possessing or smuggling more than 600 grams of heroin or more than 2.5 kilograms of methamphetamine face the death penalty.
The production or sale of 100 grams of heroin or 300 grams of other illegal narcotics is also punishable by death.
Rainy weather continues occurring in HCMC
The National Hydrology Meteorology Forecast Center yesterday reported that the northern provinces will face an extreme cold conditions from November 23.
The cold front is moving toward the northern region. Because of its influence, the daytime temperature in Hanoi city will drop down at level 15- 16 degrees Celsius while the lowest temperature in the northern mountainous area will be under 11 degrees Celsius by November 24 .
During the following days, the cold air is forecast to bring medium- heavy rains in the north central provinces from Nghe An to Thua Thien- Hue.
Both Ho Chi Minh City and the southern region continue maintaining showery weather and thunderstorm in evening, and deep cloud with the peak temperature of 32- 33 degrees Celsius at daytime.
The cold condition will last by December 1.
2017 HCMC Young Artists Biennale kicked off
An art contest for young artists titled "The 4th Young Artists Biennale in Ho Chi Minh City" has been launched by the HCMC Fine Arts Association, Ho Chi Minh City University of Fine Arts and Ho Chi Minh City Fine Arts Museum.
Submitted artworks reflecting social and current issues were made from 2015-2016. Major category the artist is working in paintings, graphics, statues, sculptures, performance art, installation arts, and video art.
Participants can submit their works to the Ho Chi Minh City Fine Arts Association at No. 218A Pasteur Street in District 3 from now until February 28, 2017.
The event aims to encourage the artists' creativity and diversification of materials, and honor artworks reflecting contemporary life through the lenses of young Vietnamese artists.
The organization board will honor winning entries with one first prize, two second prizes, three third prizes, and 5 consolation prizes.
VNA/VNS/VOV/SGT/SGGP/TT/TN/Dantri/VNE
Social News 23/11 have 5759 words, post on english.vietnamnet.vn at November 22, 2016. This is cached page on Law Breaking News. If you want remove this page, please contact us.