HCM City offers more DPT vaccines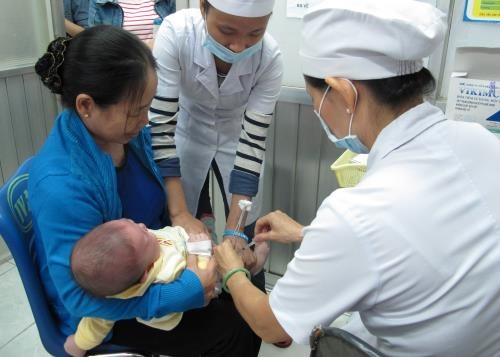 The HCM City Preventive Health Centre yesterday told health officials in districts to ensure the provision of the fourth shot of the combined vaccine against diphtheria, pertussis and tetanus (DPT) to children aged 18 to 48 months.
Only 12,889 out of 108,679 children had received the DPT vaccine as of September 30.
District 4 had the highest rate of DPT vaccinated children in the city, with 54 per cent.
Dr Lê Hồng Nga, the centre's general planning division, spoke at a monthly meeting on disease prevention with the city's Department of Health held yesterday.
The districts of Bình Thạnh, 7, Cần Giờ and Tân Phú had the lowest rate, under 10 per cent, she said.
Health officials in many districts such as Tân Phú District put posters on walls of apartment buildings, kindergartens and schools, calling on parents to review the vaccination schedule of their children as well as the provision of the fourth shot.
The city has not yet recorded any new incidence of diphtheria this year, Nga said.
Nga said that all district-level health officials must co-operate with managers of schools and family-based sewing establishments, where dengue fever has broken out.
Many of the workers, along with migrants who rent rooms, live in the building where the sewing workshop is located.
She said the workshops should be sprayed more carefully to control mosquitoes and that measures should be taken at schools to prevent the spread of hand, foot and mouth (HFM) disease.
In September, an outbreak of HFM occurred at three kindergartens in districts 5 and Hóc Môn, with 25 children contracting the disease.
According to hospital reports, the number of patients aged 10 to 19 with dengue fever since July has increased. Students and young workers are at the highest risk of contracting dengue fever, she explained.
The city had 12,996 new incidences of the disease in the first nine months of the year, an increase of 27 per cent compared to the same period last year.
The centre reported 3,917 new incidences of hand, foot, and mouth disease in the first nine months, a decrease of 32 per cent compared to the same period last year. However, the disease saw an upward trend last month.
Hậu Giang expands certified rice cultivation
The Cửu Long (Mekong) Delta province of Hậu Giang plans to expand the cultivation area planted with certified rice to 60-70 per cent of its total rice cultivation.
About 40 per cent of the province's 80,000ha of rice are planted with certified rice seeds, according to the province's Department of Agriculture and Rural Development.
Nguyễn Văn Đồng, director of the department, said the province's agricultural sector was co-operating with research institutes and universities to produce new high-quality rice varieties.
Last month, the province's Agricultural Seed Centre signed a co-operation agreement with the Cửu Long Rice Research Institute to produce new rice varieties which will have a Hậu Giang brand name. The institute will also provide techniques to the centre in how to create new rice varieties.
In addition, as of May, more than 5,000ha of rice in Hậu Giang had been guaranteed outlets through linkages between farmers and enterprises in planting rice, according to the province's Department of Agriculture and Rural Development.
In Vị Thuỷ District, for instance, more than 100ha of the 2015-16 winter-spring rice in Vị Thắng Commune's Hamlet 9 and Hamlet 11 have been guaranteed outlets by the Công Bình Private Enterprise.
Nguyễn Văn Tạo, who owns 3ha of rice fields in Hamlet 11, said his family began participating in the cooperation model for the 2015-16 winter-spring rice and earned a profit of VNĐ110 million (US$5,000) for this crop.
The profit is VNĐ40 million ($1,800) higher than in previous rice crops, he said.
In the next winter-spring rice crop 2016-17, Vị Thuỷ District targets a yield of 124,400-127,700 tonnes, up about 7 per cent against the last winter-spring rice crop.
Trần Hồng Tim, head of the Vị Thuỷ Agriculture and Rural Development Bureau, said the bureau would encourage farmers to use more certified rice seeds to increase yield and quality.
The bureau will also encourage farmers to apply advanced farming techniques.
In the 2015-16 winter-spring crop, Hậu Giang achieved the lowest production costs in growing rice compared to the delta's other provinces and Cần Thơ, according to the Ministry of Finance.
Hậu Giang spent about VNĐ2,802 planting one kilo of paddy.
Advanced farming techniques, high-quality seeds and rice production models that use less material inputs have helped the province reduce production costs, according to the province's Department of Agriculture and Rural Development
About 80 per cent of rice in Hậu Giang is now harvested by combine machines.
Goethe Institute introduces City photobook
The Goethe Institute in HCM City will host an introduction to the third edition of the photobook TP. Hồ Chí Minh: MEGA City (HCM City: Mega City) by Michael Waibel on October 9.
The book features 450 photos and descriptions in Vietnamese and English and gives readers an overview of the city from the past to the present.
The event will include speeches on the book and the city's sustainable urban development by Waibel and Đỗ Phú Hưng.
Waibel is a senior researcher and project leader in urbanism at the Department of Geography at the University of Hamburg. In 2014, he co-published TP. Hồ Chí Minh: MEGA City with Henning Hilbert of the Vietnamese-German University. Waibel's previous publications include the photobooks Hà Nội: CAPITAL City and Đà Nẵng: COASTAL City.
Hưng is the head of the Department of Urban Planning at the HCM City University of Architecture.
The event will be held in both Vietnamese and English. It will begin at 10 am at the Trung Nguyên Café, 19B Phạm Ngọc Thạch Street, District 3. Entrance is free. – VNS
HCM City's underground artists gather at Piu Piu
HCM City-based underground performers and artists will gather at a party at Piu Piu on October 10.
The event will highlight rappers Suboi, Erik Smackdab, and SMO and Friends. It will also include performances of DJS Starchild, Maraphoria, Ivy Phi, and Binaural Dropout.
The party will take place from 9 pm to 3 am. The venue is at 97 Hai Bà Trưng Street in District 1. Entrance fee is VNĐ50,000 after 10 pm. S
Dutch artist launches HCMC exhibit
Dutch artist Marjon Barton will display a collection of her new work at Vin Gallery from October 8 to October 29.
The "Eternity" exhibition will include ink drawings on paper formed from repetitive connecting representations of the symbol for infinity: '∞.'
"As I was drawing, fissures appeared serendipitously. They intrigued me and I was curious to see what would appear and where. To challenge myself, I started to create rules: going in one direction only, symbols have touch, size has to alternate, etc," Barton said in a press release.
In addition to their formal concerns, Barton says the works are inspired by a difficult time of personal love and loss.
A private viewing of "Eternity" will take place from 6 -8pm on October 7. Participants can register for the event at [email protected]
The venue is at 6 Lê Văn Miến Street in District 2.
Studio 54 DJ brings disco to Hà Nội
Tomorrow night, American DJ Bert Bevans, dubbed "a true legend of disco music", will visit Hà Nội's Camelia Lounge. He will man the decks at the new hotspot on the third floor of the Melia Hanoi Hotel for the Studio 54 Disco Party.
Having begun playing in New York, Bert was one of the original DJs at Manhattan's iconic Studio 54 and later became resident DJ at Ministry of Sound in London. Now touring the world, this is a rare opportunity to see disco royalty perform.
The Studio 54 brings to Hà Nội a party with the best of disco music and flashbacks from the 70's to the 90's.
FVH city walk to explore Hà Nội
Friends of Vietnam Heritage (FVH) will host a city walk to visit Bạch Mã Temple and the Old Quarter this Sunday.
The English-language tour will begin at Bạch Mã Temple. Next, the tour will explore some of the streets of the Old Quarter, highlighting the "36 trade streets" named after the original product or service offered there by various trade guilds. The tour group, which is limited to a maximum of 10 people, will then visit the famous Bạch Mã Temple, a communal house, the last remaining city wall gate Ô Quan Chưởng, Đồng Xuân Market, and Huyền Thiên Temple.
The Sunday tour will start at 9.30am and end at 12pm. The group will gather at Bạch Mã Temple, 76 Hàng Buồm Street.
FVH is an informal group of mainly Hà Nội residents, including foreigners, whose purpose is to enhance and deepen the understanding of Vietnam's culture.
HCM City Wings beat Cantho Catfish in VBA League
The HCM City Wings came from behind to defeat the Cantho Catfish 80-70 in the Việt Nam Basketball Association (VBA) League at Hồ Xuân Hương Gymnasium in HCM City on Wednesday.
The Đà Nẵng Dragons also beat Saigon Heat, the first professional basketball club in Việt Nam, 75-73.
With this win, the HCM City Wings replaced Saigon Heat to top the rankings with seven wins and four losses. Saigon Heat rank second with eight wins and five losses, while the Hanoi Buffaloes rank third with seven wins and five losses.
Illegal kilns damage fruit and lungs
More than 600 illegal kilns producing coal in southern Hậu Giang Province's Phú Tân Commune have been discharging smoke to the environment, affecting the health of local residents and seriously reducing the productivity of their fruit trees.
Nguyễn Hữu Nghị, a Phú Tân Commune's Phú Tân Hamlet resident, said that the coal-fired kilns have boomed in the commune over the past several years.
Before 2010, there were only tens of the kilns, locating along the two sides of Cái Côn River. Most of the kilns were hand-made and temporarily built without waste treatment systems.
However, the number of kilns has remarkably increased since the coal was exported abroad, he said, causing serious air pollution.
On average, each kiln burns wood for 20 days to get coal. The process discharges a large amount of black smoke and dust, and affected the development of fruit gardens – the main income of local residents.
Nghị said his garden was covered by a black dust and quickly wilting.
"If it manages to bear fruit, they have a dirty look. Traders always offer cheaper prices for such fruits," he said.
Currently, there are about 620 coal kilns in the commune. Each has the height of between 4 and 5.5 metres and is temporarily built by mud and husk.
Hundreds of households in the commune have also raised worries about health risks. They complain about respiratory and skin diseases that they blame on the kilns.
Trần Hồng Đức, deputy head of Châu Thành District's Office of Agriculture and Rural Development, said that the unit has set up a team to evaluate the situation.
At least 290 hectares of fruit trees have been seriously affected by the smoke. Productivity has reduced by between 25 and 30 per cent, he said.
Nguyễn Tấn Trung, head of the unit said the provincial Department of Agriculture and Rural Development, has installed a model of treating smoke discharged as a pilot in Ngã Bảy Town.
The model will be expanded in the whole district if it works, he said.
The department also proposed the Ministry of Natural Resources and Environment a project to curb the pollution at Phú Tân Commune, but it has not received replies.
Crackdown on trucks dumping waste in Hà Nội
The traffic department in Hà Nội's Đông Anh District set up an inspection team yesterday to crack down on trucks overloaded with construction materials and suspected toxic waste mud.
Traffic inspectors have also installed signs to indicate that trucks should not be overloaded – they have been banned from entering the area if they weigh more than 10 tonnes – all along the road to the mudflats of the Red River in Mạch Lũng Village.
The move was made after local residents alleged that many trucks had been seen carrying waste mud, which might contain toxic substances, and are dumping it in the area, thereby polluting the river water and putting people's health at risk.
Lê Thành Điểm, head of traffic inspection team in Đông Anh District, said his team had seen waste mud being dumped in the area. "The dumping has damaged the dyke road and residents are angry because it stinks," he said.
Điểm said the inspection team would patrol the key roads to keep a check on overloaded trucks, especially those heading to the mudflats in Mạch Lũng village.
The dumping of construction materials and waste mud in the area is a recent occurrence. Bùi Quang Tuấn, vice-chairman of the communal People's Committee, said the illegal dumping started six months ago. On Monday afternoon, the reporter observed heaps of scrap along the road to the mudflats in Đại Mạch Commune.
Since early this year, traffic inspectors in Đông Anh District have stopped more than 400 overloaded trucks and collected fines to the tune of VNĐ1 billion ($44,800).
Four deforestation hot spots exist in Đắk Nông
Despite a number of measures to prevent violations in forest protection and development law, there still remain four hot spots of deforestation in the Central Highlands province of Đắk Nông.
This was revealed by the provincial Department of Agriculture and Rural Development.
The four hot spots are zones 1685 and 1697, managed by the Gia Nghĩa forestry company; zone 1507 of the Quảng Tín forestry company; zone 1506 of the Thiện Hưng company; and zone 1529 of the Khang Nam real estate company.
Lê Trọng Yên, director of the provincial Department of Agriculture and Rural Development, said local authorities and relevant agencies have stepped up measures to curb the appearance of new hot spots, while calling for forest owners, locals and the whole community to sign and pledge commitment to follow state regulations in forest protection.
In the first nine months of this year, the department made efforts to remove seven hot spots of illegal logging in forests.
The department will conduct regular and unscheduled investigations of wood processing bases, impose strict penalties and suspend operation of bases using illegally logged wood, he said.
Forest rangers and owners have been assigned to patrol the hot spots round the clock to immediately detain poachers. Early last month, investigators in Đắk Mi District of Đắk Nông Province prosecuted Đinh Hồng Phong from central Nghệ An Province for ransacking properties.
Phong is a well known thief in the region, leading a group of 10 gangsters to rob locals and destroy forests. He confessed to the police that his group destroyed a forest zone managed by the MTV Đức Hòa company in Đắk Song District, damaging a major area of natural forest land.
Initial statistics of the department reveal there have been 302 deforestation cases in the province since January, damaging nearly 120ha.
The province has lost 26,000ha of forest between 2010 and 2015 due to a management breach by state forestry companies, which had been assigned by the government to protect the area, the Lao Động (Labour) newspaper reported.
It also estimated that some 50,000ha of forest in the province have been illegally appropriated since 2010.
The forests are illegally logged to plant rubber and coffee trees, and to make room for housing.
Workshop tackles ethnic issues
Engaging public participation in environmental impact assessments was advised to offer more chances to ethnic minority groups and to allow underprivileged people to raise their voices, in a consultation workshop held yesterday in Hà Nội.
The workshop was organised to receive comments from interested stakeholders for the draft "Regional Guidelines on Public Participation in Environmental Impact Assessments".
The draft is to be compiled by the Regional Technical Working Group with 25 members from both Government and non-government agencies of five countries in the lower Mekong region including Việt Nam, Laos, Cambodia, Myanmar and Thailand.
A representative from the Việt Nam River Network said giving an opportunity for ethnic minority groups to raise their voices on environmental impact assessments was necessary.
This was even more important as many projects, such as building hydro-power plants, are often located in remote areas where a lot of ethnic minority people lived, she added.
Nguyễn Thị Yến, an independent consultant, said friendly tools should be designed to assist ethnic minority people to comment on an environmental impact assessments.
At the consultation workshop, participants also highly appreciated the pressing need for the guideline in the context that Việt Nam and other countries in the region have been challenged by increasing investment projects in the Mekong region.
Lê Duy Tiến, head of the Science, Technology and Environment Department under the Việt Nam Union of Science and Technology Associations, said under the guideline, this was the first time that public participation was involved from the very first steps of a project.
At present, public participation was only involved after an environmental impact assessment was compiled, he said.
Phạm Quỳnh Hương, a sociology expert said the guideline was expected to create a foundation from which people could really contribute their comments on an environmental impact assessment.
Speaking at the workshop, head of the Việt Nam Environment Administration under the Ministry of Natural Resources and Environment, Nguyễn Văn Tài, said after the guideline was officially launched, the administration would consult with the Government to consider putting the guidelines into regulations for implementing in Việt Nam.
Tài also said public participation in environmental impact assessments was an indispensable activity that aimed to raise the effectiveness of an environmental impact assessment for a project.
For interested stakeholders, the draft regional EIA guideline is currently available in English for online comments via the website http://mekongcitizen.org/EIA.
Lê Hoàng Lan, a national advisor and member of the Regional Technical Working Group, said the deadline for feedback was October 31.
2,500 Vietnamese workers strike at Chinese toy factory
The company requires each team of 60 workers to churn out 77 teddy bears every hour, a task they call 'impossible.'
More than 2,500 workers at a Chinese toy factory in the central province of Nghe An continued the third day of their wildcat strike on to protest what they call unreasonably heavy workload and other unfair policies.
The workers carried banners and placards and crowded the street in front of Matrix Vinh Ltd.
Dozens of police officers were sent to the site to prevent chaos.
The workers said they went on strike after they filed complaints to the company leaders about the poor working conditions but no action was taken.
Thuy, a 28-year-old worker, said the company requires each team of around 60 workers to make 77 teddy bears every one hour.
"The demand is impossible to meet, and we kept being scolded by the bosses," she said.
Those doing a good job received little bonus, the workers said.
Other complaints were about small lunch allowances of only around half a dollar a person, a short lunch break and inadequate toilets.
The workers, representing 80% of the staff, said they will continue the strike on Thursday.
Le Ngoc Hoa, vice chairman of Nghe An, said the province has met with the Chinese managers of the company and urged them to reach an agreement with the workers.
Matrix Vinh opened in Nghe An in 2011, producing toys for markets such as Canada, Hong Kong and the U.S.
All strikes in Vietnam are wildcat. A total of 245 wildcat strikes took place across the country last year with disgruntled workers demanding better pay and working conditions and protesting against overtime.
Vietnam's wanted bigwig ran away to Europe: official
The man is at the center of a probe into nearly $150 million of losses at a state firm.
A senior Vietnamese official wanted on an international warrant is believed to have flown to Europe, amid an investigation into losses of nearly US$150 million at a state-owned company that he once ran.
Trinh Xuan Thanh, former chairman of PetroVietnam Construction JSC (PVC), could escape because local authorities did not press charges against him or take measures to watch him closely at the time, said Dinh The Huynh, a senior Communist Party official.
Huynh's statement marked the first time a high-ranking official has spoken more specifically about the whereabouts of Thanh. The Ministry of Public Security only said on September 16 that they had issued an international arrest warrant for Thanh.
Huynh, a member of the decision-making Politburo and the Party's de facto number two, was speaking to his constituents in the central city of Da Nang on October 4. (In Vietnam, top leaders, including the Party chief, the president and the prime minister, also serve as elected lawmakers.)
Thanh is accused of mismanagement and causing losses of around VND3.2 trillion (US$147 million) at PVC, a unit of the state-owned oil giant PetroVietnam, under his watch between 2011 and 2013. Four other executives from the company have been arrested.
Thanh sought overseas sick leave in mid-August and has never returned since, the police said. He was expelled from the Communist Party on September 8, a move that would pave the way for him to face criminal charges.
The now-infamous official first caught media attention in June for driving a US$230,000 Lexus with a government license plate in a country where the annual average income was around $2,100. The scandal caused uproar over the use of public money, prompting the Party chief Nguyen Phu Trong to order a probe into his political career and how he had been promoted.
Government inspectors found that Thanh and his team, starting in 2009, had launched many offshoot units and partnered with a number of companies, but few of the ventures proved effective. Most of their business projects during the period ended up being delayed or even canceled.
After his stint at PVC, Thanh continued to be kicked upstairs with an apparently successful political track record, holding various government positions before taking his latest post as vice chairman of the Mekong Delta province of Hau Giang.
He was not nominated for re-election for the 2016-2020 tenure in June. Then in July, he was also stripped off his legislator-elect status.
Aging Vietnam to put the brakes on economic growth
Pensioners are living out their final years in sickness and without social welfare.
aging vietnam to put the brakes on economic growth hinh 0 According to government figures, Vietnam currently has a total population of 93 million, and 10.5% of the population is 60 or over – that's 9.8 million people.
It is forecast in the next 50 years, Vietnam will have 10 million more in that age group.
The United Nations considers a country to be aging when 7% of its population is aged 65 or over – the threshold used to be 10% of a population being 60 years old or over.
Chung, at the age of 77, lives with her 74-year-old sister in a shabby house on the outskirts of Hanoi. Both women are living out their final years in poor health and financial difficulties.
More and more Vietnamese senior citizens like Chung and her sister are being left behind in their villages as their children go out to the cities to earn a living.
The two old women spend half of their combined monthly income of about VND6 million (US$270) on medical services. They have no health insurance.
Vietnam's aging population has two distinguishing features.
Firstly, the aging process has happened at a much faster rate than expected.
Vietnam was expected to benefit from its golden population over a 30-year period from 2010 to 2040 with more economically active people, defined as those aged between 15 and 60, than economically inactive people. However, due to a lower birthrate and longer life expectancy, the country is aging rapidly, and the working-age population is shrinking at pace.
The working-age population will shrink so quickly that by 2030, one in six Vietnamese will be over 60, and by 2060, one in four will be 60 or older, government figures show.
According to the United Nations Development Program, Vietnam's working-age population has increased about 50% in the past 100 years, but its population aged 60 or older has soared by 300%.
"What took between 60 and 100 years in Europe and North America is set to take only two or three decades in many Asia-Pacific countries, including in Vietnam," said Bakhodir Burkhanov, UNDP deputy country director in Vietnam.
Vietnam's demographic window is about to close as its ageing process is forecast to take only 15 years. Official statistics show that Vietnam's population aged 60 or over has steadily increased to the current 10.5% from 9% in 2009, 8.1% in 1999, 7.2% in 1989 and 6.9% in 1979.
Secondly, Vietnam's population has aged before it has become rich or moderately rich.
"Vietnam is one of a few countries in the world in which the population has aged before becoming rich," said Nguyen Trong Dam, deputy labor minister, referring to mounting constraints on the social welfare system and health care services when it comes to any potential solutions to take care of elderly people.
It is estimated 20% of Vietnamese senior citizens aged 60 or older are currently living under the poverty line, according to the UNDP in Vietnam, and one third of them are still working in labor-intensive jobs with low and unstable incomes.
About 70% of them don't have savings accounts and 62.6% of seniors are financially insecure without monthly pensions or social welfare benefits.
Besides, Vietnamese elders are living longer, but they are spending more time sick, said deputy minister Dam.
The world's average life expectancy has increased by 21 years over the past 50 years while the life expectancy in Vietnam has soared by 33 years to an average of 75.6.
However, the General Office for Population and Family Planning has calculated the country's healthy life expectancy at 60 years. That means the proportion of time Vietnamese senior citizens are living with health problems is estimated at around 15 years. And 95% of them are living with non-infectious conditions such as diabetes, high blood pressure, strokes, osteoporosis and respiratory diseases.
According to the UNDP, if Vietnam fails to create jobs, develop social security and improve quality of life before aging sets in, it will risk instability in the near future.
The aging process might end the country's fast economic growth, which has been above 5 percent on average since 1999, and the Southeast Asian country's growth is mainly fuelled by exports which rely heavily on cheap and abundant labor.
In the near term, the UNDP suggests Vietnam should boost productivity by lifting the mandatory retirement age, retaining more senior people in the labor force.
Michael Herrmann, senior adviser on economics and manager of the Innovation Fund at the United Nations Population Fund (UNFPA), put forward three solutions at a recent workshop on the impacts of an ageing population. He advised the government to consider a policy change that will make Vietnamese stay in their jobs longer, invest more in human resources, especially in women, and fortify the country's social welfare safety net.
The deputy labor minister said given the limited budget and resources, the government's window for action is limited.
The labor ministry has tried and failed a few times to call for the state retirement age to be lifted to 62 for men and 57 for women.
"We need to lift the retirement age," said Nguyen Huu Dung, a senior advisor to the labor ministry, who is concerned about how to take advantage of the senior workforce without denying young people jobs.
Countries in Asia and the Pacific are home to more than half of the population aged 60 or older in the world, numbering up to 533 million people, said Lubna Baqi, the deputy director for the UNFPA's Asia and the Pacific Regional Office.
The number of older people in the region is expected to jump to nearly 1.3 billion by 2050, representing two thirds of the world's population aged over 60. Asia's population is ageing faster than anywhere else in the world, said a study, warning the swelling ranks of the elderly will cost the region US$20 trillion in healthcare by 2030.
Checks cost importers dearly
The minimum costs of quarantine, food safety checks and quality control that importers had to bear were more than VND1.63 trillion (over US$73.38 million) last year, heard a recent workshop in HCMC.
The figure did not include the costs and fees of permits and similar papers, borrowing, warehousing, labor and opportunity, Nguyen Minh Thao, director of the Business Environment and Competitiveness Department at the Central Institute for Economic Management (CIEM), said the workshop on orientations for amendments and supplements to a number of specialized laws on management held by CIEM and GIG.
Specifically, it costs at least VND200,000 for each quarantine and VND2 million for quality control and food safety inspections, Thao estimated, based on the statistics from the HCMC Department of Customs.
Goods circulating through HCMC account for 40-50% of the nation's total, with a higher volume subject to specialized checks. The number of import declarations in need of checks at the 32 other customs offices equal only 50% of that in HCMC and costs around VND546 billion.
For example, an enterprise imports eight coolers worth US$8,000, or VND165 million, but has to spend VND134 million on testing and quality control at the Quality Assurance and Testing Center 1 (Quatest 1), with shipping costs yet to be included.
GIG expert Nguyen Thanh Binh, former director of the Supervision and Management Department at the General Department of Customs, emphasized those were only the minimum figures that the survey team used for temporary calculation. The actual figures should be much higher.
It is stipulated that the costs of sampling, testing or inspections are covered by the agencies in charge, unless enterprises themselves request such processes. In reality, however, each and every cost is paid by importers, said Nguyen Hoai Nam, deputy secretary general of the Vietnam Association of Seafood Exporters and Producers (VASEP).
Thao ascribed the situation to flaws in laws and regulations. Therefore, CIEM proposed amendments and supplements to four laws.
Those are the Law on Standards and Technical Regulations 2006, the Law on Product Quality 2007, the Law on Food Safety 2010 and the Law on Energy Saving and Efficiency 2010. The revisions must be geared towards fundamental changes in transparency and adoption of international practice.
Binh suggested Article 48 of the Law on Standards and Technical Regulations be revised so that the certification of conformity would be given to an entire line of products rather than a single product. In addition, the certification should be done with the first shipment only.
This opinion met with opposition, however. Not only would this go against the principles of product quality control but it would also violate international commitments and practice, said Doan Thanh Tho, deputy head of the Department of Legislation and Inspection under the Directorate of Standards, Metrology and Quality.
Do Phuoc Tong, vice chairman of the HCMC Mechanical Engineering Association, said despite the Government's resolutions, without the enforcement by State agencies, things would fall into oblivion and businesses would be those who suffer. Therefore, besides mulling a law fixing numerous laws as what the Ministry of Planning and Investment is doing, it is important to set out specific sanctions for ministries and agencies which issue legal documents beyond their authority and against the current laws.
Vietnamese boyfriend behind death of Australian in HCM City
Ho Chi Minh City Police has apprehended a Vietnamese undergraduate who was found responsible for the death of an Australian company director in July, local newswire VnExpress has reported.
Quach Phuoc Ho Tay, 22, an undergraduate from Dong Nai Province who is attending university in Ho Chi Minh City, was on October 4 detained by the municipal police on charges of murder and appropriation of properties.
Tay was found responsible for the murder of Chinese-born Australian national Alex Lee, who was in July found dead at his private residence in District 10, Ho Chi Minh City.
Lee, 51, was director at a tourism and educational service company based in the southern Vietnamese city.
According to Tay's testimonies at the police station, he and Lee were involved in a romantic relationship after they met each other on a dating site in May.
On the evening of July 15, the two met at Lee's private house on Nguyen Chi Thanh Street in District 10 for some intimacy.
Out of pain and anger from being treated violently by the director during the act, Tay reportedly hit and strangled Lee to death.
The undergraduate ran off with Lee's wallet, phone, and motorbike, and later used the Australian man's bank account to shop for a phone.
Tay also used a fake license plate to avoid police.
The next day, a group of Lee's employees came to search for the director at his house after multiple unsuccessful attempts to contact him by phone.
Police was later called to the scene after the employees rang the doorbell multiple times to no avail.
Breaking into the residence, police found Lee already dead, lying naked on his bed on the first floor of the house with his mouth and nose splattered with blood.
After two months of following traces and leads, Ho Chi Minh City Police was able to narrow Tay down as the top suspect, and an intensive search operation was carried out to apprehend the man.
Further investigation is underway, the city's police said.
Guidelines for environmental impact assessment debated
A conference took place on October 5 to collect feedback on the draft regional guidelines for public participation in environmental impact assessment (EIA).
The regional EIA guidelines were developed by the Regional Technical Working Group (RTWG) on the issue, which comprises 25 representatives of ministries and civil society organisations from Vietnam, Cambodia, Laos, Myanmar and Thailand. The team has been supported by national technical advisors and other international technical experts.
According to expert Le Hoang Lan, the guidelines mention trans-border effects through public participation in assessing trans-border environmental impacts. All comments gathered will be considered among members of the RTWG in early 2017 to adjust and complete the guidelines, making them practical and implementable across the Mekong Delta region.
Participants suggested the guidelines pay attention to the participation of the minority, women and disadvantaged as well as the implementation of countries involved and their economic benefits for taking part in the initiative.
Vietnam should draw up guidance concerning environmental impact assessment for local and foreign businesses, they noted.
Head of the Vietnam Environment Administration Nguyen Van Tai said Vietnam looks to devise a roadmap on collecting comments and advice from different levels of public agencies, then making contents of the guidelines part of the Vietnamese legal system.
HAGL recruits 3,000 unskilled labourers to work in Laos, Cambodia
Hoang Anh Gia Lai (HAGL) Group wants to recruit 3,000 unskilled labourers to work in agriculture in Laos and Cambodia with an initial monthly wage of VND5 million (around US$220).
A representative of HAGL, Mr. Nguyen Tan Anh said the workers should be of working age, industrious and have good health. They will work at beef cattle farms and rubber and palm oil plantations in Laos, Cambodia and Vietnam's Central Highlands province of Gia Lai.
They will be provided with accommodations and healthcare and have opportunities to entertain cultural activities.
Currently, thousands of Vietnamese people are working for HAGL group in Laos and Cambodia.
HCM City Indian community celebrates Festival of Lights
If all goes as planned, more than one thousand Ho Chi Minh City-area residents will gather at the GEM Centre this coming November 5 for the annual celebration of Diwali Dhamaka, the Hindu Festival of Lights.
Hosted by the Indian Chamber of Commerce in Vietnam (Incham), the event will feature Indian-themed performances by local talent, dinner, music and a fireworks display.
An Incham rep said the annual event gives Indians a sense of nostalgia for their home country and it's a chance for them to meet with different communities across HCM City, meet more people and make new friends.
It's a festival that is celebrated across India, said the rep, noting there are different interpretations of Diwali in different parts of India. But there is one common theme, and that is the victory of good over evil.
Worldwide, a weeklong series of events surrounds Diwali, which will be officially observed on Saturday, November 5 (local time). It's the biggest Hindu festival of the year welcoming Indians from all walks of life to come together.
We will have a cultural program where kids and adults participate and a grand feast and dancing and music, and then it all culminates with a fireworks extravaganza that is very symbolic of Diwali, the Festival of Lights, said the rep.
Diwali has many similarities to the celebration of Christmas. There are gift exchanges, good food, and gatherings of family and friends. And like Christmas, Diwali has become very commercialized.
He said the event will also raise money for a variety of charitable causes in HCM City.
Da Lat to host first Cherry Blossom Festival
It has been unveiled that Da Lat will host its first ever Cherry Blossom Festival this coming January 2017.
According to the organizers, a variety of activities are planned including a light festival, street festival, food festival at the TerraCotta Hotel & Resort Dalat, a golf tournament and a cherry blossom photo exhibition.
The organizers are in the process of compiling more detailed promotional materials that will be made available at a later date describing the programs and activities for the festival.
VN recreation complexes win IAAPA recognition
TTC Group's TTC Safari – Đà Lạt and TTC Safari – Tà Cú recreation complexes (in Bình Thuận Province) have become members of the International Association of Amusement Parks and Attractions (IAAPA) following evaluation by international experts.
With a total area of over 220 hectares, the two comprise three tourist areas: the Valley of Love, Dreaming Hill and Thống Nhất Hill.
They have plenty of popular attractions like canoeing, pedal boats, horse riding, camping, paintball and others.
IAAPA represents over 4,800 amusement parks and attractions in more than 90 countries, including famous brands such as Disneyland Singapore, Universal Singapore, Studios DreamWorks, Sea World Australia, Babylon Casino in Macau, and Kingdom of Dreams in India.
In order to be a part of IAAPA, members are required to meet strict requirements related to service quality, safety, scenery, and environment.
EU helps Vietnam put new focus on food safety
The EU is supporting the Ministry of Industry and Trade (MOIT) to educate the nation's farmers, manufacturers, wholesalers, retailers, consumers and street vendors on safe food handling practices.
Food systems in Vietnam are getting more complex, said Ambassador Bruno Angelet, head of the delegation of the European Union to Vietnam, at a recent seminar in Hanoi, with food oftentimes being delivered from many sources over great distances.
As a result, the importance of food safety has become more prominent on the national stage than at any other time in the history of Vietnam.
It is therefore imperative that a new nationwide food safety awareness campaign be undertaken that targets street food vendors, consumers and smallholder businesses, in particular, in hopes of having a widespread positive impact.
The intent is to bring all of the stakeholders together – consumers, food companies and street food vendors – to focus on food safety. Through education, we hope to strengthen nationwide action on safe and hygienic food for all, said the Ambassador.
The campaign will promote awareness of food label information, appropriate food storage conditions and related food handling practices. Street vendor training and professional courses also will be key components of the campaign, as well as seminars and workshops for participants across the food supply chain.
The EUs dedication to nourishing people and providing high-quality, safe food is a global effort, he said. We are glad to join hands with the MOIT and be a catalyst to improve food safety awareness in Vietnam.
Do Thang Hai, deputy minister of the MOIT, in turn welcomed the support of the EU in the effort to promote food safety throughout the nation saying it would help elevate the global image of Vietnam food products and stimulate exports.
This campaign will be implemented with the assistance of consultants, media, promoters and marketers to transform the image of the national food industry by concentrating on bettering food safety and public health, said Mr Hai.
The campaign is a component of the national brand development campaign and enhancing the Vietnam food segment of the economy so that it is strong and capable of competing effectively in the global marketplace.
If the campaign is successful, it will help the nation's food products generate greater value, which means that farmers will be able to sell their produce at a higher price, thus increasing their profits, resulting in an improved standard of living.
In turn, it will create more sustainable economic potential for the food segment, noted Mr Hai.
VNA/VNS/VOV/SGT/SGGP/TT/TN/Dantri/VNE
Social News 8/10 have 7154 words, post on at October 7, 2016. This is cached page on Law Breaking News. If you want remove this page, please contact us.