Health Ministry checks dengue fever prevention task in 18 cities, provinces
Due to dengue fever's complicated development in some localities across the country, the Ministry of Health (MoH) decided to set up 8 mission teams to check dengue fever prevention task in 18 major cities and provinces in August.
A report by the ministry showed that the number of infection cases has increased three fold since the beginning of the year compared to same last year.
As per the Ministry, by early August, the country has over 45,000 dengue fever infection cases including 14 deaths in 46 cities and provinces. Noticeably, the cases of infection climbed by 2.6 times compared to same period last year. Meanwhile 2015 is considered as peak season of the dengue fever but the country had nearly 40,000 cases.
Head of the Ministry's Preventive Medicine Department Professor Tran Dac Phu said that lately most cases of dengue fever are living in the four Highland provinces of Dak Lak, Dak Nong, Gia Lai, Kon Tum and some southern and central provinces such as An Giang, Dong Thap, Ho Chi Minh City, Khanh Hoa, Phu Yen, and Binh Dinh.
The southern and the highland province have high rate of dengue fever cases because it enters rainy season which is conducive to outbreaks of the disease.
Vietnam has suffered harsh weather conditions this year as the consequences of the longest El Nino spell triggering mosquitoes grow. El Nino caused drought; consequently households keep water in jugs or water containers where mosquitoes usually lay eggs into.
Along with it, in many places, families throw discarded tires around the house which turned out to be water containers where mosquito larva grows up.
The eight teams from the Ministry will tour to check prevention task in major cities and provinces including the southern provinces of An Giang, Binh Phuoc, the Highland province of Kom Tum, Dak Lak, Dak Nong, Gia Lai, Ben Tre, Dong Thap, Binh Duong, Dong Nai, HCMC, Ba Ria- Vung Tau, the Central City of Da Nang, the central provinces of Quang Ngai.
At the same time, Health Minister will remind chairpersons of People's Committees in 10 cities and provinces with high rate of mortality and infection cases because of dengue fever paying more attention to prevention task.
The Ministry said that dengue fever cases escalated in many Pacific Asian countries meanwhile there has been no vaccine or specific medication against the disease.
Program launched to support poor people in central Vietnam
The Ministry of Agriculture and Rural Development, Vietnam's Women Union, and Unilever Vietnam last week launched a program to support poor households in Ha Tinh, Quang Binh, Quang Tri and Thua Thien-Hue provinces.
The program is expected to hand over 50,000 gifts worth a combined VND7.5 billion to households in the four provinces, which are vulnerable to natural disasters and were hit hard by the recent mass fish deaths along the central coast.
Included in the gift bags will be rice, and nutritional and personal care products.
Authorities in each locality have been requested to help prepare a list of households eligible to receive the gifts.
The Saigon Union of Trading Cooperatives (Saigon Co.op) is in charge of making the program known to the public at all Co.opmart supermarkets nationwide, and providing rice for the program.
Unilever Vietnam has contributed 20,000 gift packages. For every Unilever's product worth over VND30,000 sold, the company will donate VND10,000 to the program, which is scheduled to be implemented in August.
Lao Cai: Thunderstorm, lightning leave two deaths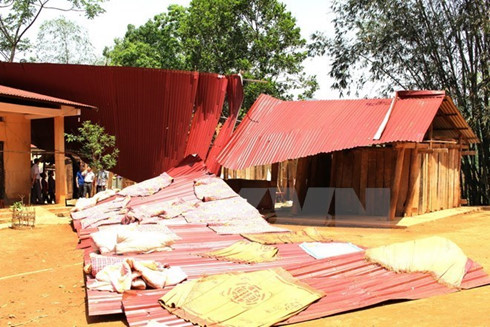 Two people were killed and three others injured as they were hit by thunderstorm and lightning in the northern mountainous province of Lao Cai on August 2, according to the provincial Steering Committee for natural disasters prevention, search and rescue.
The thunderstorm taking place in Bao Thang district at 2:30 pm blew away the roofs of 13 local houses and rooted up a 50-metre height ancient tree which led to the collapse of one house, hurting 64 year-old woman and killing one year-old child inside.
The same day, heavy rain and lightning struck Lung Khau Nhin commune, Muong Khuong district, taking the live of one person and injuring two others who hid in a small hillside cave during their maize harvest activity.
There will be two to four storms and low depressions in the East Sea in August this year, one or two of them will affect the mainland of Vietnam, especially the northern and northern central regions, according to the National Centre for Hydrometeorology Forecasting.
In August, northern midland and lowland localities as well as the central region are predicted to suffer one or two very hot spells, while northern mountainous provinces expect heavy rains that may cause flash floods and landslides, the centre said.
New riverside road to go up in HCMC
A new road along the Saigon River will be built by property developer Vingroup to create an alternative route between the city downtown and Binh Thanh District, thus easing pressure on the busy existing roads in the area.
The group's proposal for the road, which will run from Ton Duc Thang Street in District 1 to the Saigon Bridge underpass, has been approved by the HCMC government.
Authorities said the riverside route will significantly reduce traffic on Nguyen Huu Canh, one of the main streets that connect the two districts at the moment.
The city, which has adjusted its zoning plan for the 930-hectare central area, also told related departments and districts to evaluate the scope and design options of the new road.
The goal is to maximize connection to existing infrastructure without affecting the city's first metro line, currently being built to link Ben Thanh Market and Suoi Tien Theme Park in District 9.
Vingroup is developing the massive multi-functional residential area Vinhomes Tan Cang and trying to improve traffic conditions around the project site. In 2014 it also proposed renovating Nguyen Huu Canh Street and expanding Ung Van Khiem Street.
AO/dioxin pain, easing efforts featured at Hanoi exhibition
An exhibition on the pain of Agent Orange (AO)/dioxin in Vietnam and efforts to surmount its consequences was opened in Hanoi on August 3.
The event at the Vietnam Military History Museum is held in coordination with the Vietnam Association of Victims of AO/dioxin (VAVA), the Chemical Arms, and the Military Library. It takes place on the occasion of the 55th anniversary of the AO/dioxin disaster in Vietnam (August 10, 1961).
Through the more than 400 items and photos on display, the exhibition gives visitors an insight into the danger and devastation of chemical toxins and the process by which the US army caused the AO/dioxin disaster in Vietnam.
Many of the exhibits show Vietnam's efforts to address the consequences of AO/dioxin, along with domestic and foreign support for the victims.
The AO/dioxin victims and their families' exceptional endeavours to weather the difficulties are also featured in the displayed items.
At the exhibition, books, scientific research and newspaper articles written by Vietnamese and foreign authors are also expected to help readers gain a better understanding of the disaster and remedies to the problem.
Senior Lieutenant General Nguyen Van Rinh, VAVA Chairman, said the event aims to help visitors learn more about the consequences of AO/dioxin, thus calling for practical action to assist the victims and fight for their justice.
From 1961 – 1971, US troops sprayed more than 80 million litres of herbicides, 44 million litres of which were AO, containing nearly 370 kilograms of dioxin, over southern Vietnam, according to the VAVA.
As a result, around 4.8 million Vietnamese were exposed to the toxic chemical, about 3 million of them are AO victims. While tens of thousands of people have died, millions of their descendants are living with deformities and diseases as a direct result of the chemical's effects.
Flight delays and cancellations rise in H1
Local airlines delayed and aborted more flights in the first half of this year than in the same period last year, according to the Civil Aviation Authority of Vietnam (CAAV).
Vietnam Airlines, Vietjet and Jetstar Pacific delayed more than 20,000 flights in the first six months, accounting for 15.8% of their total services and up 0.8 percentage point year-on-year.
They canceled 772 services in January-June, making up 0.6% of the total number of flights and edging up slightly over the same period last year.
CAAV said the respective flight delay and cancellation ratios of Vietnam Airlines, Vietjet and Jetstar Pacific were 15.3%, 16.4% and 20.7% in the period.
These carriers attributed the delays and cancellations to bad weather, technical issues, operating methods, airport overloads and air traffic congestion.
However, CAAV director general Lai Xuan Thanh said passengers did not complain much about weather-related delays and cancellations but cost reasons such as merging passengers of two separate flights into one, especially at night. He told aviation authorities to inspect and promptly stop this business practice.
The worsening overload at Tan Son Nhat airport in HCMC also resulted in more delays and cancellations. To solve this problem, CAAV plans to reduce aircraft movements at the busiest airport in Vietnam at peak hours from 4 p.m. to 6 p.m.
The aviation watchdog proposed the Ministry of Transport urge the Ministry of Defense to hand over 30 hectares of land to Airports Corporation of Vietnam (ACV) to build a new passenger terminal and expand the aircraft parking area at the airport to cut flight delays and cancellations.
Vietnam Airlines aims to reduce its ratio of delayed and aborted services to 12% by end-2016 while Vietjet looks to a flight punctuality rate of 90% at the end of this year.
Hanoi leader receives Lao president of trade union federation
Deputy Secretary of the Hanoi Party's Committee Dao Duc Toan hosted a reception for Lao President of the Vientiane Capital Federation of Trade Unions, Kenkham Hotthilath, in Hanoi on August 2.
At the meeting, Deputy Secretary Toan said as a political and economic hub that attracts many labourers, Hanoi has been working to develop its trade unions with more than 7,500 locally-based trade unions.
Toan hoped that the visit of Kenkham Hotthilath, who is also member of the Vientiane Capital Party Committee, would further nurture cooperation between the two capitals.
Ken Hotthilath noted that the visit provides an opportunity for the two cities to discuss future collaboration in trade union affairs.
He also briefed his host on the recent signing of an agreement between the Vientiane Capital Federation of Trade Unions and the Hanoi Federation of Labour for the 2016-2020 term.
He said he looks forward to continued support from Hanoi in organising trade unions.
Contest seeks community' poverty reduction initiatives
A contest with the theme "Community-based Sustainable Poverty Reduction Initiatives" was launched in Hanoi on August 2.
The contest is part of the Poverty Reduction Policies and Programme Project (PRPP) carried out by the Ministry of Labour, War Invalids and Social Affairs (MoLISA), the United Nations Development Fund (UNDP) and the Irish Embassy in Vietnam.
It aims to promote the participation of community, particularly among ethnic minority women in sustainable economic and environment development activities in their localities.
According to MoLISA Deputy Minister Nguyen Trong Dam, the event is expected to contribute to developing policies on sustainable poverty reduction in the 2016-2020 period.
Family doctor model to be expanded locally
The development of the family doctor model will go together with the health system at the grassroots level.
This is one of the targets of the family doctor model expansion plan in Việt Nam in the 2016-20 period, which was launched at a conference held by the health ministry (MoH) yesterday in the northern mountainous Lào Cai Province.
During the conference, health experts shared experiences and thoughts about the development of the family doctor model with the aim of improving the health system at the grassroots level.
Trần Giáng Hương, director of the International Co-operation Department under the MoH, said the family doctor model was run in pilot programmes in eight provinces and cities.
The programmes made several achievements, but still met some difficulties in operating the model, and in incorporating it with the local health system effectively.
The country now has 1,200 doctors specialising as family doctors.
Several participants at the conference said the number was few compared to the real demand, and so the health sector should consider assigning more doctors to work as family doctors, and prepare plans to train family doctors.
Trần Quý Tường, deputy director of the MoH's Medical Services Administration, said effective expansion and implementation of the family doctor model was expected to reduce hospital overcrowding and improving the workforce for local medical stations.
They were also two out of nine priorities of Việt Nam's health sector in the 2016-20 period, he said.
Deputy PM agrees 10-20 percent road toll cut
Deputy Prime Minister Vuong Dinh Hue has sent a dispatch agreeing with a proposal by the Ministry of Finance to reduce road toll by 10-20 percent to some means of transportation.
Trucks with the loading capacity of 10-18 tons, from 18 tons and more; and 20 feet and 40 feet container lorries will see a reduction of 10-20 percent at tollbooths applying maximum toll levels as per Circular 159.
Similar fee cut rate will be applied to less than 12 seater and 13-20 seater buses, trucks of under two tons and 2-4 tons and types of buses at five stations with the highest toll level now. This aims to make toll rates at the fives places equivalent to that at others.
At present, Vietnam has 86 BOT (Build-Operate-Transfer) tollbooths under the management of the Ministry of Transport. Of these, 45 are placed in highways and expressways. Five out of 29 stations with charge regulated at Circular 159 of the Ministry of Finance apply the highest rates.
The Deputy PM has assigned the Ministry of Transport to review all contracted BOT projects to renegotiate with investors about toll level adjustment and a roadmap to implement each project.
Basing on the negations' results, the Transport Ministry will propose the Ministry of Finance to issue a new circular to adjust and rationalize toll levels, he instructed.
More medical clinic for emergency in HCMC's East entrance
The Department of Health in Ho Chi Minh City yesterday opened a satellite medical clinic 115 for emergency in 800 Dong Van Cong Street in Thanh My Loi Ward in district 2.
The satellite medical clinic 115 located in Phuc An Khang hospital in district 2 has three ambulances with specific equipment and medication. Moreover, medical workers are ready to give first aid to patients when they are informed of emergent cases. Additionally, the hospital will provide help when the hot line for public emergency medical services via phone number 115.
HCMC Deputy Director of Health Department Dr. Tang Chi Thuong said that the huge volume of traffic congestion commonly occurring at the city's east entrance, establishment of the satellite medical clinic 115 has helped to carry patients to nearest hospitals to save "golden time" patient's chances of survival are greatest if they receive care within a short period of time after a severe injury.
The clinic admits around 30-40 emergency cases every day. People can call 115 or 08-73009911, 08-37410033 when they need emergency care.
So far, the department has set up six satellite medical clinics in the city. It is the health sector's great efforts in a bid to increase survival chance for people. It is scheduled that by the end of 2016, the department will open around 12 satellite medical clinics for emergency.
VSIP Nghe An lays first brick of wastewater treatment plant
Vietnam-Singapore Industrial Park (VSIP JV) held the ground-breaking ceremony for the first phase of its waste treatment plant in VSIP Nghe An yesterday.
The new plant aims to provide sufficient treatment capacity to support the park's tenants and its future needs. The first phase, slated to be finished in August 2017, will handle up to 6,000 cubic metres of solid waste a day. Once fully completed, the project is expected have a total capacity of 20,000 cubic metres per day.
Speaking at the ceremony, deputy general director of VSIP Nghe An Edwin Chee said that the new plant affirmed VSIP's commitment to conserving local environment as well as contributing to the socio-economic development of Nghe An.
"In particular, the expansion will help VSIP lure more investors to Nghe An and spread environmental awareness," he noted.
The park developer is also accelerating construction works on fire station and office buildings to put them into operation by the end of this year.
VSIP Nghe An is the seventh park developed by VSIP in Vietnam, following the success of the ones located in Binh Duong, Quang Ngai, Bac Ninh, Haiphong, and Hai Duong.
House displaying Hoang Sa, Truong Sa objects to be built
A house to display objects related to Vietnam's Hoang Sa (Paracel) and Truong Sa (Spratly) archipelagoes will be built at the Nha Trang Institute of Oceanography in the central province of Khanh Hoa.
The architecture of the building was discussed at a meeting held by the provincial People's Committee on August 2.
With an investment of 50 billion VND (2.25 million USD), the house will have a total area of 2,000sq.m, and exhibit around 20,000 documents and objects affirming Vietnam's sovereignty over its sea and islands, especially the two archipelagoes.
Also at the Nha Trang Institute of Oceanography, an area to protect and preserve marine creatures collected from Truong Sa archipelago and other Vietnamese waters will be built in an existing tunnel, which is 80m long, 4.5m wide and 4.5m high.
The area aims to raise public awareness of the value of marine creature resources and serve research on and preservation of important marine creatures.
The project to build the house and the marine creature preservation area will be implemented over two years.
Association brings HCM City closer to Lao localities
The Vietnam-Laos Friendship Association in Ho Chi Minh City (VLFA-HCMC) convened its second congress on August 2 to review its performance in the 2011-2016 tenure and lay out tasks for the next five years.
Addressing the event, VLFA-HCMC Chairman for 2011-2016 Phan Xuan Bien highlighted the special relationship between Vietnam and Laos, as well as the responsibility taken on by the association's HCM City chapter to contribute to cultivating the friendship and solidarity between the two countries, and the Vietnamese southern metropolis' ties with Lao localities in particular.
The congress agreed to step up communication work, especially among the two countries' young generations, in order to raise public awareness of the bilateral ties.
The association aims to outstandingly fulfill its role as a bridge between the two neighbours and constructively partake in their external activities, thus helping enhance mutual understanding.
In a parallel effort, the association will work to promote economic cooperation between HCM City and Lao localities along with supporting Lao students in the city.
During the past tenure, the VLFA-HCMC made pragmatic and effective contributions to bolstering the collaboration and friendship between HCM City and Lao localities, the congress heard.
The congress elected a 27-member executive board of the VLFA-HCMC for 2016-2021 with Huynh Cach Mang, Vice Chairman of the HCM City People's Committee, as the new head of the chapter.
US company helps Thanh Hoa locals improve livelihoods
The US-based Philip Morris International Company on August 2 launched a project to provide breeding cows for poor locals in Ba Thuoc district of the central province of Thanh Hoa.
Under the "cow bank" project, the company plans to present 60 cows totaling 892 million VND (40,140 USD) to poor local households from now to October, with the purpose of helping them improve their livelihoods and escape from poverty.
These households will be trained on how to bring up the cows to have the highest economic efficiency.
In another development, the Red Cross of the southern province of Tay Ninh is coordinating with volunteer doctors to provide free medical check-ups and medicines for local people.
Since early July, more than 1,400 poor, old and blind people and ethnics in Tay Ninh city, Hoa Thanh, Tan Bien, Go Dau and Trang Bang districts have received check-ups.
From now to the end of 2016, the association targets 5,000 locals, especially those in far-flung and border areas, receiving free medicines and medical check-ups.
Vice President presents gifts to Ninh Binh's AO victims
Vice President Dang Thi Ngoc Thinh led a delegation to the northern province of Ninh Binh on August 2 to present gifts to families with people affected by Agent Orange (AO)/dioxin.
The Vice President offered gifts and 50 million VND (2,250 USD) each to help three families in Khanh Thinh and Yen Tu communes of Yen Mo district and Yen Ninh town of Yen Khanh district.
During the working session with the provincial chapter of the Vietnam Association of Victims of Agent Orange/dioxin, she hailed the organisation's contributions to caring for local AO victims.
Thinh urged the locality to mobilise more resources and organise practical activities for the targeted group.
According to the chapter, Ninh Binh is home to 35,470 people exposed to Agent Orange, 5,734 of them have received social allowances.
As of June this year, the province had mobilised over 22.3 billion VND (roughly 1 million USD) to help local AO victims.
Financial support worth over 19 billion VND (855,000 USD) has been provided for over 55,700 individuals, covering house upgrades, health check-ups, free medicine, and production investment.
Amateur group wins top Dance Festival prize
The amateur group, HCM City D.N.S. Crew, won first prize at the Contemporary Dance Group Festival 2016 held by the city's Young People's Committee this week.
The D.N.S. Crew has nine members, including five female dancers, who choreographed their modern routines based on traditional dances.
They competed with several hundred young dancers from 17 groups in the city.
The organisers plan to hold the festival each year to promote dance among students at universities and colleges.
Renowned VN science journalist dies
Journalist Hàm Châu, who was famous for writing profiles of outstanding Vietnamese and foreign scientists, died of a stroke in Hà Nội on Monday. He was 83 years old.
Born into an intellectual family in the central province of Nghệ An, he graduated from National Economics University but chose to become a journalist.
With a high command of three foreign languages – including Chinese, Russia and English – and a deep knowledge of science, he was equipped with the skills to connect with and share the stories of scientists in well-written articles.
During his long career, he worked for several different publications.
After working as a reporter at the Hà Nội Mới (New Hà Nội) newspaper, he was editor-in-chief of Tổ Quốc (Motherland) magazine. He was also in charge of the Nhân Dân newspaper (weekend issue) and English-language magazine Vietnam Cultural Window.
Even though he wrote about different topics, his most famous articles were about science and education.
He wrote more than 2,500 articles, published 10 books under his name and co-published 23 books with other authors, including a 1,200-page book titled Trí Thức Tinh Hoa Việt Nam Đương Đại (Việt Nam's Contemporary Intellectuals).
His latest book, which he recently finished, is titled Ánh Sáng Nhân Văn Trong Thế Giới Các Nhà Vật lý (Humane Light in the World of Physicists).
This 830-page literary chronicle, rich with interesting observations and emotion, talks about the important international scientific meetings he joined in Việt Nam and different countries around the world, as well as the portraits of scientists who won Nobel prizes and world-renowned scientists of Vietnamese origin.
Nguyễn Tử Uyên, Hàm Châu's son, said his father lived alone in Hà Nội in order to have ideal conditions for finishing his book. He had planned to move to HCM City to live with his son after publishing his book.
Hàm Châu was close to Professor Trần Thanh Vân, founder of Meeting Việt Nam, which held meetings aimed at creating opportunities for Vietnamese scientists to access advanced science and network with famous scientists from around the world, as well as encourage young Vietnamese scholars' scientific studies and inventions. Hàm Châu also accompanied Prof Vân to different regions of the country when Vân offered Vallet scholarships to Vietnamese students, along with the support of Professor Odon Vallet of France's Sorbonne University.
"Journalist Hàm Châu became close to us in 1993 when he was reporting on the first Meeting Vietnam. I never met such a journalist who was so passionate about science," Vân said.
"The country lost a devoted journalist who gave himself to the country's science development. We will never have such a devoted journalist who has such profound knowledge of science like him."
Vân said that just a few days ago, he had discussed with Hàm Châu a plan to offer scholarships to students. On Monday, when they sent him airplane tickets, they also received the news of his death.
"I do not know how much this news will sadden Prof Odon Vallet, because during each trip to offer scholarships to students, Châu used to sit close to Prof Vallet and tell him stories about the culture, history and people of different regions of Việt Nam where we passed through," he said. "Vallet appreciated Châu a lot and was very interested in his stories."
Vietnam loses 2,689 hectares of forest in Jan-July: ministry
Vietnam has lost a total of 2,689 hectares (6,644 acres) of forest so far this year, including 694 hectares cut down illegally, according to the Ministry of Agriculture and Rural Development (MARD).
The illegally cleared area during the first seven months was 60% larger than what was lost to deforestation in the same period last year.
The rest, totaling 1,995 hectares, was destroyed by fires, nearly three times higher than the damage a year ago.
The ministry did not provide a breakdown on wildfires and deliberate burning.
Meanwhile, replanting has slowed down, allegedly due to serious drought in the early months this year.
Nationwide, trees have been replanted on an area of 104,000 hectares so far this year, nearly 8% less than last year.
In June, Prime Minister Nguyen Xuan Phuc ordered a ban on clearing natural forests to protect the remaining 2.25 million hectares. The government was trying to prevent abuse of a policy that allows companies to clear degraded forest areas to plant commercial trees.
According to a report released by the MARD, between 2010 and 2014, 110,000 hectares were cleared for commercial crops, 37,000 hectares for hydropower plants and roads, and 123,000 illegally.
Tons of fish found dead in Danang park
Tons of fish have been found dead in a pond at a park located in the central Vietnamese city of Danang.
Fish from a lake in the 29/3 Park in the central hub were discovered having died en masse on July 1, releasing a foul smell upsetting many local visitors.
Most of the dead fish were adult tilapias, some of which weighed up to two kilograms each. A smaller number of common carp and shrimp also suffered the same fate.
The incident was noticed by hikers along the lake during the morning and quickly reported to managers of the venue.
Bodies of dead fish float in the lake at the 29/3 Park in the central Vietnamese city of Danang on August 1, 2016.
In an interview with Tuoi Tre (Youth) newspaper, Dang Duc Thu, director of the Danang Green Tree Park Company which manages the lake, confirmed that fish started dying early in the morning, adding that the phenomenon had worsened by the end of the day.
The situation was later reported to the Danang Drainage and Wastewater Company, the firm in charge of supervising the quality of the pond, according to Thu.
Mai Ma, director of the company, said that his employees had salvaged the bodies of the dead fish with their weight expected to total over two metric tons.
The cause of the mass deaths has yet to be determined, Mai said, adding that the phenomenon was not unprecedented.
A water sample of the lake has been taken for examination while the lake will be sterilized with lime in the meantime, the director continued.
He added that the water in the pond could not be replaced entirely due to a lack of resources.
Three jailed for stealing jet fuel in Vietnam
A court in Ho Chi Minh City on August 2 sentenced three ex-workers of Jetstar Pacific to two years' imprisonment for stealing more than 8,100 liters of jet fuel in 2015.
Four other men were sentenced to suspended sentences of between 18 months and 2 years for trading the stolen fuel, according to the ruling by the People's Court of Ho Chi Minh City.
Nguy Nhu Thanh, Do Van Hung and Le Van Hung were in charge carrying maintenance engineers to Jetstar aircraft at Tan Son Nhat International Airport in Ho Chi Minh City, and fuel taken from the aircraft to a storage for regular tests.
They stole the fuel, worth nearly VND120 million, during the delivery between December 2014 and January 2015.
They sold it to Vu The Hung and Vu Van Dung who then hired Huynh Duc Dung to resell it to Tran Van Suu.
At the trial, a representative of Jetstar Pacific said the carrier wouldn't demand a compensation since the police had helped it recover most of the stolen fuel.
Emirates offers big savings on fares to UK
Emirates Airlines has dropped the price of fares between Hanoi and Ho Chi Minh City in Vietnam to the UK, in an exclusive 2016 summer value sale to as low as just US$955 (VND21.3 million) roundtrip.
The sale, which started on August 1 and runs until August 15, applies to tickets scheduled for departure through March 31, 2017.
The Emirates Summer Value sale includes Economy Class two-way fares from HCM City to Manchester from US$955 (VND21.3 million). Business Class fares for the route are also reduced to US$2,865 (VND62.66 million.)
Economy Class and Business Class fares from Hanoi to London are US$941 (VND21 million) and US$2,856 (VND63.67 million), respectively while those from Hanoi to Manchester are US$928 (VND20.7 million) and US$2,815 (VND62.66 million).
"One can view the full list of destinations on offer at the airlines website," said Emirates, "with an August 15 deadline to book for the maximum saving."
"The Emirates Summer Value sale is the perfect opportunity to start planning this year's big summer break, taking advantage of the great savings on flights and accommodation in the process."
The airline also emphasizes that any customer looking for cheap and cheerful city break escapes, should take a look at their top 10 destinations and how to travel to it for less.
Vice President presents gifts to Ninh Binh's AO victims
Vice President Dang Thi Ngoc Thinh led a delegation to the northern province of Ninh Binh on August 2 to present gifts to families with people affected by Agent Orange (AO)/dioxin.
The Vice President offered gifts and 50 million VND (2,250 USD) each to help three families in Khanh Thinh and Yen Tu communes of Yen Mo district and Yen Ninh town of Yen Khanh district.
During the working session with the provincial chapter of the Vietnam Association of Victims of Agent Orange/dioxin, she hailed the organisation's contributions to caring for local AO victims.
Thinh urged the locality to mobilise more resources and organise practical activities for the targeted group.
According to the chapter, Ninh Binh is home to 35,470 people exposed to Agent Orange, 5,734 of them have received social allowances.
As of June this year, the province had mobilised over 22.3 billion VND (roughly 1 million USD) to help local AO victims.
Financial support worth over 19 billion VND (855,000 USD) has been provided for over 55,700 individuals, covering house upgrades, health check-ups, free medicine, and production investment.
Ha Nam marks 55th Day for Agent Orange/Dioxin Victims
The People's Committee of northern Ha Nam province held a ceremony on August 1 to commemorate the 55th anniversary of the Day for Agent Orange/Dioxin Victims (August 10, 1961).
The event also marked the 10th founding anniversary of the Association for Victims of Agent Orange/Dioxin of Ha Nam (December 24, 2006).
More than 29,000 people in the province have suffered the effects of Agent Orange/Dioxin. Today, the effects are still surfacing in the second and even the third generations of the victims.
Over the past 10 years, the provincial Association for Victims of Agent Orange/Dioxin have helped local victims build houses and provided them with funding.
Speaking at the ceremony, Senior Lieutenant-General Nguyen Van Rinh, president of the Vietnam Association for Victims of Agent Orange/Dioxin, called for more support from state agencies, social organisations and enterprises to victims.
The provincial People's Committee presented 120 gift packages, worth 500,000 VND each, to the Agent Orange/Dioxin victims while more than 700 million VND was donated to the locality's Agent Orange/Dioxin fund during the event.
The association and 13 individuals received Certificate of Merit from the prime minister for their works between 2011 and 2015.
38 Hà Nội buildings lack fire safety standards
The Hà Nội Department of Fire Prevention and Control has released a list of 38 apartment buildings that are in use but do not meet fire safety regulations.
A majority of these buildings are located in Hoàng Mai and Hà Đông districts, which have nine and 14 buildings, respectively, lacking fire safety measures.
Many investors and management units were found not following government regulations on fire prevention and control, the department said.
As of the end of July, Hà Nội has 1,075 high-rise buildings, of which 916 are operational. The rest are either under construction or have temporarily been shut down.
In a related development, the number of fires nationwide this year has fallen slightly (0.3 per cent), when compared with last year, according to statistics from the General Department of Fire Prevention and Control, Rescue and Salvage.
About 1,506 cases of fire occurred in the first six months of this year, leaving 31 people dead and injuring 181, besides causing damage to property worth more than VNĐ830 billion (US$37.2 million) and destroying more than 720ha of forests.
The reasons for the fires in residential areas and households as well as at businesses were faults of electrical systems and equipment, accounting for almost 600 cases.
The concerned agencies will continue to carry out inspections and strictly deal with violations in high-rise buildings. At the same time, agencies will instruct the building management units to remove existing shortcomings to ensure the safety of local residents.
First season of Junior MasterChef Vietnam to be aired in October
The first season of Junior MasterChef Vietnam, the Vietnamese version of the popular international reality television show 'Junior MasterChef' will be broadcast on VTV3 channel starting October 2.
The cooking competition expects to bring viewers exciting moments in which competitors must overcome many challenges to reach to the title of Vietnam Junior Masterchef.
The audition round is being held from now until September 5.
Culinary enthusiasts and cooks aged at 8-14 can get information about the contest on the website www.vuadaubepnhi.vtv.vn
Junior MasterChef Vietnam is a Vietnamese Cooking Game Show based on the original British version of Junior MasterChef. The show is being produced in 30 countries around the world and broadcast in more than 200 countries with a huge number of viewers.
Danang launches tunnel design contest
Danang City People's Committee has given approval for an international design contest to be held to develop a tunnel project for the Han River crossing project.
The winner will bring home VND100m (USD4,500) while the runner-up and third place are VND50m and VND30m respectively. Other noteworthy plans will receive VND20m.
The deadline for submission is on September 26.
Submissions must meet requirements about city's traffic planning, suitable with the current state of the area, structural solutions, feasible and beautiful design and construction technology.
Ground clearance and people's needs are underlined with priorities given to submissions with minimum number of residential houses or other construction being relocated or cleared.
On June 15, Danang Chairman Huynh Thuc Duc held a meeting with consultants and departments about design plans and funds for the project. The city have agreed they want a tunnel under Han River from Dong Da Street in Hai Chau District to Van Don Street in Son Tra District.
The project is expected to be 1.3 kilometres long and be capable of having six lanes of traffic. Its estimated cost is VND4.08trn (USD182.14m) and construction should start by the end of the year.
Low salaries blamed for corruption
A report on the results of Hanoi People's Committee's anti-corruption work for the first half of 2016 has said that one of the big challenges is low salaries paid to civil servants.
According to the report, the city's inspection team recovered VND50.6 billion (USD2.25 million) and over 13 hectares of land, and issued fines worth VND 41 billion (USD1.85 million) to 42 individuals and 22 organisations.
"39 individuals have been prosecuted in 16 serious corruption cases in the first six months of this year," the report noted.
The committee said that the city still faced many challenges, especially in land use and management, construction investment, finance, and public security.
The committee also pointed out some shortcomings in their work including, the quality of the staff, lack of communication activities, lax management, low rates of detection and low recovery rate of assets.
However, they also stressed that low payment to civil servants is also a chief cause of making the committee's work more difficult.
"The fight against corruption is a complicated and challenging work," the report explained. "Moreover, the pay and reward policy for civil servants is still low and violators are becoming more and more daring and skilled".
Vietjet to offer 30,000 tickets at 0VND
Low-cost airline Vietjet Air will launch a promotion from August 3-5 offering 30,000 tickets at 0VND for international flights to the Republic of Korea and Chinese Taipei.
The promotional tickets will be available for routes linking Ho Chi Minh City and Hanoi with Seoul for travel between August 23, 2016 and March 26, 2017, as well as routes from Ho Chi Minh City to Tainan and Taipei for the travel from August 6 to October 30, excluding national holidays.
The programme is open to online passengers who book tickets between noon and 2pm at www.vietjetair.com, for smartphones at https://m.vietjetair.com or at www.facebook.com/vietjetvietnam.
Payment can be easily made with Visa, MasterCard, JCB, and American Express and ATM cards issued by the 24 Vietnamese banks with internet banking.
Founded in 2007, Vietjet currently has a fleet of 41 aircrafts, including A320s and A321s and operates nearly 300 flights daily.
It has already opened 53 routes in Vietnam and across the region to international destinations such as Singapore, the Republic of Korea, China, Thailand, Myanmar and Malaysia. It has carried around 25 million passengers to date.
Overseas VN author releases travel book
In her latest book, author Nguyễn Phan Quế Mai compares herself with a grain of salt in the ocean.
Entitled Hạt Muối Rong Chơi (A Wandering Grain of Salt), the book details her experiences in trips around the world, the stories she was told and what she witnessed.
Stories in the book include "escaping the by an inch in Laos", "on the alert for being shot in Philippines" and "Australian people falling into oblivion".
The book was released yesterday at the University of Social Sciences and Humanities in Hà Nội. Mai talked with the students and shared her experiences in preparing for her journeys.
Poet Nguyễn Quang Thiều, vice chairman of the Việt Nam Writers Association, said he realised that whenever Mai travels to a new land, she doesn't go as a traveller, or a researcher, she goes there to live life to the fullest.
"She tells what she experienced infatuatedly as she was lost in that place and didn't want to find the way back," said Thiều.
Mai currently lives in Belgium with her family. She has written or translated 15 verse and prose books.
Saigonese grow their own greens at home
Concerned about the safety of vegetables sold at markets and supermarkets, many Saigonese are now growing their own greens at home.
Cultivating a plant, however, requires techniques that most amateurs find difficult. This is where bonsai shop owners step in.
Taking advantage of the new trend, bonsai shop owners have been selling saplings of high-demand vegetables, which come handily in pots filled with sophisticated, carefully-chosen mixtures of soil and fertilizer.
Prices for slow-maturing plants, such as zucchini, squash, and gourd, are around VND50,000 (US$2.27) to VND100,000 (US$4.55) per pot, whereas quick-maturing plants, such as cilantro, basil, and chili pepper, fetch about VND15,000 (68 US cents) per pot.
"Before this, I sold only a handful of pots a day. Now I'm selling 50-70 daily, and even that's not enough to meet demand," a shop owner said.
80% of customers are mothers raising young children, another shop owner said.
In order to ensure that their children's food is safe, these mothers have been quick to bring such saplings home.
The appeal lies in the fact that these saplings are grown without chemicals involved.
Furthermore, the ready-made saplings do not require much effort to be taken care of. The difficult parts of the process, such as choosing the right seeds, preparing soil, and picking fertilizers, have already been done by shop owners.
The young vegetables can be harvested 10 to 15 days after they are bought. Many of them can be harvested multiple times.
"These plants not only provide clean food, but also create a green space for my family," a happy customer said.
Thieves targeting foreigners in Saigon backpackers' area busted
Four men have been arrested in Ho Chi Minh City for allegedly stealing from foreigners in a park in the backpackers' area, police said.
Pham Thanh Tai, 21, and Hoang Ngoc Phu, 23, were caught by the Dist. 1 police of at 1.30 a.m. when they were riding near the 23/9 Park.
They were keeping a backpack which was found to belong to a 69-year-old Australian national.
They told the police they had stolen the backpack, which contained VND3.9 million and some personal belongings, an hour earlier.
Phu's wife, identified only as Nhu, had made friends with the victim and lured him to the park, they said. Nhu is still at large.
The police later arrested two other accomplices, Dang Lam Phi and Pham Duy Quang, both 30.
The duo confessed to snatching a smartphone from an unidentified foreign tourist on July 1, also in the 23/9 Park.
They also admitted to helping Tai escape a few days before by attacking a pursuing victim in the same park.
The police said they are investigating further.
Eight-story construction completed without permit in Binh Duong
A construction in the southern Vietnamese province of Binh Duong has been discovered being built without a permit after eight of its floors had already been completed.
A recent probe by Tuoi Tre (Youth) newspaper has revealed that the Koncham Binh Duong building, located in Hoa Phu Ward, Thu Dau Mot City, Binh Duong, had been under construction for several months without formal permission.
The US$2 million project is owned by Korean-invested business Binh Duong Koncham, and covers an area of 1,500 square meters.
With eight stories and a basement included in the building design, the venue is expected to home offices, education centers, and eateries.
The company registered its business license with a specialization in commercial real estate services, including offices, retail, and spaces for lease.
Construction of the building was began on January 15 with a grand ceremony attended by many provincial leaders.
Situated in a prime location of the city, the structure is only 100 meters away from the administrative center of Binh Duong and can easily be spotted from the facility.
However, construction had been underway for over six months with eight floors finished without a legitimate permit or reaction from local authorities.
During interviews with Tuoi Tre, the Binh Duong Department of Construction and the People's Committee in Hoa Phu were still struggling to determine the individuals responsible for the managerial oversight.
According to a representative from the Hoa Phu administration, the project is located in the ward but is managed by the provincial Department of Construction.
As soon as the building was discovered being built without formal permission, authorities in the ward made a report with sanctions to be decided by inspectors from the department, the source elaborated.
Another official said that all operations must be ceased whenever a construction is caught being executed without a permit.
However, several employees were still working at the site on Sunday, according to the observation of Tuoi Tre reporters.
The violation was noticed in early July, a leader of the Department of Construction said, adding that investors had submitted the necessary paperwork to register for a permit.
The investors will be granted the formal permission if all documents are sufficient and valid, the leader continued.
Striker Cong Phuong impresses fans in Japan
Vietnamese striker Cong Phuong presented his signature and souvenirs to nearly 100 Vietnamese tourists during an exchange held in Mito the capital city of Ibaraki prefecture on August 1.
This is part of a tour program designed by Vietnam travel companies to help visitors, especially football fans get new experiences.
During the event, Cong Phuong shared his feelings of the recent match and his induction into Japanese club Mito Hollyhock. Earlier, the tourists visited the football pitch of Hollyhock club and discovered interesting destinations in Ibaraki, Tokyo and Nikko.
Cong Phuong likes most the National Hitachi Seaside Park in Ibaraki. He was the first Vietnamese person selected as the Exchange Ambassador of Ibaraki and Vietnam in March. Last year, Ibaraki prefecture welcomed more than 1,500 Vietnamese visitors.
VNA/VNS/VOV/SGT/SGGP/TT/TN/Dantri/VNE
Social News 4/8 have 7637 words, post on at August 3, 2016. This is cached page on Law Breaking News. If you want remove this page, please contact us.